Overview
---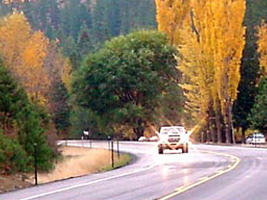 District 2 covers just over 13,000 square miles of north-central Idaho and maintains 1,500 lane miles (lanes of road, on- and off-ramps, etc.) and 180 bridges.District 2 encompasses five counties, with diverse geology highlighted by the pristine Clearwater River, one of the most scenic rivers in the United States. It has robust populations of fish and wildlife, and is rich in history. The Middle Fork of the Clearwater River was one of the first rivers designated under the U.S. Wild and Scenic Rivers Act.
District headquarters is at 2600 Frontage Road in Lewiston, where Dave Kuisti is district (head) engineer. Jan Vassar, of Lewiston, has represented District 2 on the Idaho Transportation Board since Jan. 2010.
---
District 2 Phone:
(208) 799-5090
District 2 Fax:
(208) 799-4301
Office of Communication Contact:
Jake Melder
– (208) 334-8874

Jan Vassar
Board Member
(208) 743-5093

Dave Kuisti
District Engineer
Email Dave
Construction List
North-Central Idaho: 2017 Highway Construction Projects (District 2)
US-12: Pavement Rehab from Arrow Bridge to Big Canyon Creek
• Started April 20 and should end by mid-June
• Flaggers and pilot cars will direct traffic, one lane at a time. Delays of 15-30 minutes.
• Work will include milling off and replacing existing asphalt pavement in a 20-mile-long section of road between Lewiston and Orofino, and replacing with new pavement.
• Contractor: Knife River Construction. Project construction cost is $5.5 million.
US-12 & US-95: Spalding to Arrow | Spalding to Lewiston
• Starts mid-May 2017 and should end late August.
• Crews will work Monday-Saturday from 6 a.m. to 7 p.m. Delays of 15-30 minutes. Some night work will be required and short-term detours will occur during work on the interchange ramps. Flaggers and pilot cars will be used to direct traffic, one lane at a time.
• Resurfacing project to extend pavement life, with guardrail and sign upgrades.
• Contractor: Knife River Construction. Project construction cost is $9.1 million.
ID-62: Holes Creek
• Starts June 2017 and is expected to end by July 1.
• Delays of 15-30 minutes. Detour is Powerline Rd.
• Replacing existing culvert with a bottomless arch pipe. The project will also include stream channel work to promote and assist fish passage.
• Contractor: Crea Construction. Project construction amount is $376,000.
ID-14: Peasley Creek Fish Passage Project
• Expected start August 2017 and completion Fall 2017.
• One lane open to traffic at all times. Delays of 15-30 minutes.
• Replaces culvert with a bottomless arch pipe about 25 miles southeast of Grangeville. The roadway approaches on each side will be repaved with half a foot of new asphalt.
• Construction bid not yet awarded. Estimated cost is $465,000.
14 Bridges Scheduled for Rehabilitation
• Start late summer 2017 and expected finish in late fall.
• Delays of 15-30 minutes. Restricted to one lane.
• Sealing decks on 14 bridges in district to protect against weather/water damage.
• Construction bid not yet awarded.
List of Bridges
US-95:
• Award Bridge, Milepost 216.3
• McKinzie Bridge, Milepost 215.98
ID-64:
• Hollow Creek, Milepost 15.56
ID-14:
• Meadow Creek, Milepost 16.98
• Newsome Creek, Milepost 36.47
• Silver Creek, Milepost 24.63
ID-11:
• Deer/Reeds Creek, Milepost 41.68
• Quartz Creek, Milepost 31.71
• Canal Creek, Milepost 29.67
• Orofino Creek, Milepost 28.67
ID-8:
• South Fork Potlatch River, Milepost 38.094
• Ruby Creek, Milepost 42.92
ID-7:
• Clearwater River, SH-7, Milepost 49.3
News
Public Meetings
Public Meeting was held Monday, Nov. 21, 2016

4:30 – 6:30 p.m. – Potlatch City Hall
195 Sixth Street, Potlatch
---
Press Release – November 9, 2016
Project scheduled for 2019, but may advance with available funding
Replace Gold Creek Bridge (built in 1956)
Reconstruct curve near City Hall and realign approach to Sixth Street (Old Mill Road)
Projects
2017 Highway Construction Season
New Revenue Projects
Report
Public Meeting Materials

ITD held a public meeting on Dec. 14. Materials presented at the meeting are listed below.
Project Description
The Idaho Transportation Department is designing improvements to the intersection of U.S. 12 and 21st Street in downtown Lewiston. The improvements are expected to improve safety and traffic flow at this busy intersection.
Project Background
The intersection of U.S. 12 and 21st Street serves as a gateway to downtown Lewiston and is an important regional trucking route. Congestion and delays at the intersection have continued to rise. In addition, the pavement has reached the end of its useful life.
In 2015, a traffic study was completed for several potential design options for the intersection. Each option was analyzed for potential delay times, traffic backups and how the option would help address congestion. The traffic study showed that realigning the intersection would reduce delays, improve sight distance and reduce the risk of crashes. ITD is now in the process of redesigning the intersection and preparing engineering documents for construction.
Activities and Schedule
Conducted traffic analysis study: Completed in 2015
Gather public comments: Winter 2016
Complete preliminary design plans: Spring 2017
Prepare final design plans: Fall 2017
Begin construction: Anticipated to begin in 2018/2019
ITD is committed to working with the community during this project. Comments from the public will help ITD design an intersection that serves the community. Comments, questions and ideas are welcome at any point in the project.
Contact
Curtis Arnzen, ITD Project Development Engineer, District 2
(208) 799-5090 – Curtis.Arnzen@itd.idaho.gov
Project Bid Information
Project Bidding Information
Contacts
District 2 Phone: (208) 799-5090
District 2 Fax: (208) 799-4301
---
Office of Communication Contact: Jake Melder – (208) 334-8874
Freight