District 3 – Southwest Idaho
Overview
---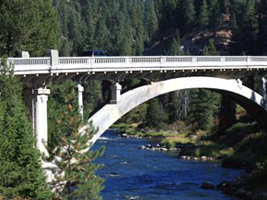 District 3 covers just under 22,000 square miles of southwest Idaho and maintains 2,647 lane miles (lanes of road, on- and off-ramps, etc.) and 399 bridges. District 3 encompasses the 10 southwest counties, with the biggest geographical footprint, the most roads and bridges of all the districts in the state, and nearly 40 percent of the state's population. Amy Revis is district (head) engineer and Julie DeLorenzo, of Boise, has represented District 3 on the Idaho Transportation Board since March 2012.
Address: Idaho Transportation Department – District 3 Headquarters
8150 Chinden Boulevard, Boise, ID 83714-1367
---
District 3 Phone:
(208) 334-8300
District 3 Fax:
(208) 334-8917
Office of Communication Contact:
Jennifer Gonzalez
Phone:
(208) 334-8938

Julie DeLorenzo
Board Member
(208) 703-4348

Amy Revis
District Engineer
Email Amy
News
One lane of westbound I-84 open between Nampa and Caldwell, emergency repairs continue
BOISE—Idaho Transportation Department crews and contractors continue to conduct emergency pavement repairs on westbound Interstate 84 from Nampa to Caldwell due to significant pothole damage that is a safety hazard to the traveling public.
One lane of WB I-84 is open to traffic between Northside Boulevard (exit 35) and Franklin Road (exit 29) while pavement repairs occur. Our goal is to reopen both lanes of travel as soon as possible, weather-dependent.
The interstate speed has also been reduced to 45 mph in the work zone to ensure the safety of all motorist as well as crews working in the immediate area.
Some of the westbound on-ramps in the work zone remain blocked. For the most current road conditions, including closures or exit information, please check 511.idaho.gov.
ITD has placed as many resources and crews on the interstate as possible to address immediate repairs in the short and long term. The department is working to advance previously scheduled plans that call for resurfacing this section of I-84, east and westbound in 2018, to an earlier date.
Here is written and video information on how potholes are formed.
Contact:
Jennifer Gonzalez
District 3 Communication
208-334-8938
jennifer.gonzalez@itd.idaho.gov
Construction Projects
New Revenue Projects
Projects Under Construction / Beginning Soon
Key Number 13463
Construction Ahead – January 2017: Idaho 44 Resurfacing Postcard
Project Description
The Idaho Transportation Department will improve the pavement on Idaho 44 between I-84 and the city of Star. The project includes:
Resurfacing the roadway between the I-84 junction and the City of Middleton. ITD will also improve the pipe that carries irrigation water under Idaho 44, just west of Whiffen Lane.
Reconstructing Idaho 44 through the City of Middleton. ITD will excavate, remove the existing roadway material and replace it with a new roadway surface. ITD will also add a westbound right-turn lane at Middleton Road and Hartley Lane.
Resurfacing the roadway between the cities of Middleton and Star. ITD will also replace the pipe that carries irrigation water under Idaho 44, just east of Can-Ada Road.
Reconstructing Idaho 44 through the City of Star and ensuring curbs and sidewalks meet the requirements of the Americans with Disabilities Act (ADA). ITD will excavate, remove the existing roadway material and replace it with a new roadway surface.
Project Background
Approximately 10,000 vehicles travel on this stretch of Idaho 44 each day, and the roadway is in need of resurfacing to extend the life of the underlying structure. The new surface will accommodate future traffic volumes, which are expected to increase to 14,000 by 2039. Improving the pavement today will help avoid more costly repairs at a later date.
Community Involvement
Keeping residents, businesses and motorists informed about this project is important to ITD. If you have any questions or information that you would like ITD to consider in the project, please contact Jennifer Gonzalez at 334-8938 or Jennifer.Gonzalez@itd.idaho.gov.
ITD will communicate with the communities along this route prior to construction.
Project Activities and Schedule
Fall 2016: Planning and design work
Surveying
Analyzing roadway conditions
Identifying curbs and sidewalks that need to be updated to meet ADA standards
Completing preliminary design
Gathering public comments
Complete final design
Winter 2016: Improve irrigation pipes
Spring/Summer 2017: Begin construction
Contact
Jennifer Gonzalez, ITD District 3 Communications
Email: jennifer.gonzalez@itd.idaho.gov
Phone: (208) 334-8938
Idaho 52 – Railroad Bridge
Public Meeting held on March 17, 2016
The Idaho Transportation Department hosted a public meeting at the New Plymouth Senior Center on March 17, 2016, to share information on a project to replace the Idaho 52/Railroad Bridge. Transportation department staff was available to answer questions, and displays illustrated information regarding the bridge replacement.
The new bridge will have shoulders that are 7-feet, 8-inches wide. Each traffic lane on the bridge will be widened from 11 feet to 12 feet. The existing piers underneath the bridge will be removed, and replaced by a retaining wall/abutment.
Idaho 52 will be closed in the vicinity of the bridge during construction. Traffic will be detoured through New Plymouth on U.S. 30.
The schedule for construction is being determined.
Contact
Those with questions about the bridge replacement project can contact adam.rush@itd.idaho.gov or call (208) 334-8119
The Idaho Transportation Department (ITD) is committed to compliance with Title VI of the Civil Rights Act of 1964 and all related regulations and directives. ITD assures that no person shall on the grounds of race, color, national origin, gender, age, or disability be excluded from participation in, be denied the benefits of, or be otherwise subjected to discrimination under any ITD service, program, or activity. The department also assures that every effort will be made to prevent discrimination through the impacts of its programs, policies, and activities on minority and low-income populations. In addition, the department will take reasonable steps to provide meaningful access to services for persons with Limited English Proficiency.

Design Projects
Corridor Studies
Contact Info
District 3 Phone: (208) 334-8300
District 3 Fax: (208) 334-8917
---
Office of Communication Contact:
Jennifer Gonzalez
Phone: (208) 334-8938
Jennifer.Gonzalez@itd.idaho.gov
---
Address:
Idaho Transportation Department – District 3 Headquarters
8150 Chinden Boulevard
Boise, ID 83714-1367
Project Map
Freight