Overview
---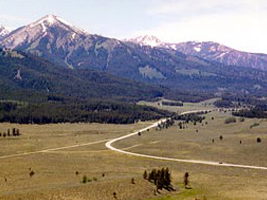 District 4 headquarters is located at 216 South Date Street in Shoshone. Devin Rigby is the District Engineer. Former Idaho Legislator Jim Kempton, of Albion, represents District Four on the Idaho Transportation Board.
District 4 is made up of 11,553 square miles and maintains 2,321 lane miles and 290 bridges. It is the third largest district by area and by population with over 185,000 residents. District 4 has a diverse landscape with the highest Idaho mountain highway pass (Galena Summit, 8,721 ft.), fertile farms and the Snake River plain.
---
District 4 Phone:
(208) 886-7800
District 4 Fax:
(208) 886-7895
Office of Communication Contact:
Nathan Jerke

Jim Kempton
Board Member
(208) 673-6261

Devin O. Rigby
District Engineer
Email Devin
Construction Projects
New Revenue Projects
Project Facts
Key Number: Westbound – 11239, Eastbound – 12955
Project Number: A011(239), A012(955)
The Idaho Transportation Department (ITD) is replacing the I-84 Snake River Twin Bridges between Minidoka and Cassia Counties near the Declo Interchange at about milepost 216. The bridges are a critical link to interstate travel through the area. Nearly 18,000 vehicles use this portion of roadway each day and the volume is predicted to nearly triple in the life of the future bridges.
Project Background
The current structures are located 8 miles east of Burley. They were built in 1960 and reconstructed in 1976. Each bridge is a concrete, stringer/girder bridge with 24 spans. The total length of the structure is 981 feet, with a maximum span of 40 feet. The width is 31.5 feet and 34.1 feet, curb-to-curb and out-to-out, respectively. The prestressed stringers/girders at the east end are cracked and have been repaired.
The Snake River is a critical concern and will require a biological assessment. A cultural resources study will be performed on the existing structure and surrounding land. Hydraulic and scour analysis will also need to be completed.
Project Description
The project intends to replace the westbound Snake River bridge on I-84 during the 2015 construction year. The westbound on-ramp at the Declo interchange (Exit 216) may be redesigned and be longer in order to improve traffic safety. The bridges will be built to accommodate three lanes to increase capacity and allow for improved merge capabilities of the ramps. Span lengths and bridge types will be analyzed to find an economical structure that provides for all the environmental concerns.
The eastbound Snake River bridge is being considered for replacement in 2016 and will go through similar environmental, structural, and design analysis prior to construction.
Contacts
Nathan Jerke, District 4 Public Information Contact
(208) 886-7809 – nathan.jerke@itd.idaho.gov
Brock Dille, Project Manager
(208) 886-7828 – brock.dille@itd.idaho.gov
The Idaho Transportation Department (ITD) is committed to compliance with Title VI of the Civil Rights Act of 1964 and all related regulations and directives. ITD assures that no person shall on the grounds of race, color, national origin, gender, age, or disability be excluded from participation in, be denied the benefits of, or be otherwise subjected to discrimination under any ITD service, program, or activity. The department also assures that every effort will be made to prevent discrimination through the impacts of its programs, policies, and activities on minority and low-income populations. In addition, the department will take reasonable steps to provide meaningful access to services for persons with Limited English Proficiency.

Design Projects and Corridor Studies
Contact Info
District 4 Phone: (208) 886-7800
District 4 Fax: (208) 886-7895
---
Office of Communication Contact:
Nathan Jerke
Public Information Contact
District 4, Idaho Transportation Dept.
(208) 886-7809 – office
(208) 316-0897 – cell
Project Map
Freight