Overview
---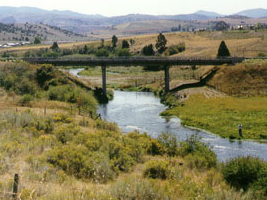 District 5 covers almost 9,500 square miles in southeastern Idaho and maintains 1,900 lane miles (lanes of road, on- and off-ramps, etc.) and 315 bridges.
District 5 encompasses seven counties, spanning rich farm land and geology from scenic mountains to serene rivers and secluded valleys.
District headquarters is at 5151 S. 5th Avenue in Pocatello, where Ed Bala is district (head) engineer. Former legislator Dwight Horsch, of Pocatello, has represented District 5 on the Idaho Transportation Board since June 2011.
---
District 5 Phone:
(208) 239-3300
District 5 Fax:
(208) 239-3367
Office of Communication Contact:
Adam Rush
– (208) 334-8119

Dwight Horsch
Board Member
(208) 221-4765

Ed Bala
District Engineer
Email Ed
D-5 Projects
New Revenue Projects
Chubbuck Interchange Plans
D-5 Design Projects
Proposed Design Layout for I-15, Rose Road Interchange
Project Name: I-15, Rose Rd. Interchange     Key Number: 14002
The Idaho Transportation Department held a public hearing at Blackfoot City Hall on Tuesday, September 13, 2016. Hearing displays illustrated information on the project, and transportation department staff was available to answer questions.
Public Hearing Materials:
Project Description:
This project at I-15 Rose Rd Interchange (Exit 98) will replace the existing bridge over I-15, and update the on- and off-ramps. The need for this project arises from the poor condition of the existing bridge, and the existing exit ramp configuration does not meet current design standards. The purpose of this project is to improve the safety and mobility for the community, agriculture industry, surrounding businesses, freight industry, and the traveling public. This project is planned to be constructed in 2018.

What has happened previously:
ITD's early work on this project focused on looking at alternative locations for the existing interchange (Exit 98). This idea came from local interest in adding another interchange to this part of I-15 after the Rose Rd Overpass bridge collapsed in the 1997 floods. The Rose Road Overpass is south of the Exit 98 Rose Road interchange.
ITD held a Public Information Meeting on August 1, 2013 at Blackfoot City Hall to discuss this project, including potential interchange locations, with the local community. Citizens shared opinions and ideas, and the project design team incorporated the public input into the project development.
The outcome of the public information meeting showed little support for moving the existing interchange, and as of yet, the traffic and planning studies that would allow an informed engineering decision on moving or adding an interchange on I-15 have not been done. Therefore, this project will replace the Rose Rd interchange bridge at the current Exit 98 location.
ITD has moved forward with the interchange design in its current location. Several alternative layouts were evaluated and a preferred alternative has been chosen.
What is happening now:
ITD is currently working on the design of the preferred alternative for the Rose Road Exit 98 Interchange and completing the National Environmental Policy Act (NEPA) requirements so that property can be acquired.
What's next:
Following the Public Hearing and after the NEPA requirements are met, ITD will start to purchase the property that is required for the construction of the new interchange.
After all the property is purchased, ITD will finalize the plans and submit the project to be let for bid by potential contractors. Construction is expected to begin early in 2018.
Contacts:
Andrea Sheppard, ITD Project Manager, District 5, (208) 239-3325
Andrea.Sheppard@itd.idaho.gov
Adam Rush, Public Involvement Coordinator, (208) 334-8119
Adam.Rush@itd.idaho.gov
Compliance with Title VI of the Civil Rights Act
The Idaho Transportation Department (ITD) is committed to compliance with Title VI of the Civil Rights Act of 1964 and all related regulations and directives. ITD assures that no person shall on the grounds of race, color, national origin, gender, age, or disability be excluded from participation in, be denied the benefits of, or be otherwise subjected to discrimination under any ITD service, program, or activity. The department also assures that every effort will be made to prevent discrimination through the impacts of its programs, policies, and activities on minority and low-income populations. In addition, the department will take reasonable steps to provide meaningful access to services for persons with Limited English Proficiency.
Project Name: U.S. 91, Shelley to York Road
Project Description:
The Idaho Transportation Department is holding a public hearing on Thursday, Sept. 3, to present information on potential improvements to U.S. 91 between the north city limits of Shelley to York Road.
The public hearing will be at the Shelley High School (570 W. Fir Street, Shelley) on Thursday, Sept. 3, from 4:00 p.m. to 7:00 p.m. Idaho Transportation Department staff will be available to answer questions, and displays will illustrate information on potential changes. In addition, a hearing officer will be available to record comments verbally for those who wish to do so.
Changes to the route are designed to address existing and future capacity, safety, substandard roadway characteristics and operational problems. The transportation department plans to widen U.S. 91 to five lanes, with wider shoulders for the entire section, including adding additional lanes at county roads for turning traffic.
U.S. 91 will move away from railroad tracks to improve vehicle storage space between the railroad tracks and the roadway. The existing 3-foot shoulders are substandard, and do not provide adequate room for incident management and bicycling. Power poles will be relocated to the outside of a safety clear zone. Traffic volumes are increasing, with a growth rate of 1.4 percent, making this section of U.S. 91 one of the areas experiencing higher growth rates in southeastern Idaho.
Project Materials
Those with questions about the project can contact Greydon Wright by e-mailed at Greydon.Wright@itd.idaho.gov, or call him at (208) 234-3611.
D-5 Corridor Studies
Project Name: I-15/I-86 Corridor Study    Key Number: 9884
The Idaho Transportation Department (ITD) is studying I-15 and I-86 to identify current and future needs throughout the corridors. The study will result in a corridor plan that identifies policies and projects important to the development of these highways over the next 20 years.
Project Description
The completed corridor plan will include an analysis of the existing conditions on the highways; a forecast of future demand over the next 20 years; and a list of short- and long-term improvements on how to modernize transportation. The document will address the course of the highways as a whole and on a county-by-county basis. The plan will be based on community input, engineering analysis, and city, county and agency planning goals. ITD will include the plan in its Idaho Horizons Long Range Capital Improvement and Preservation Program (LRCIP). LRCIP is a planning document that helps ITD prioritize projects for future years.
The finished corridor plan will include:
Safety: What improvements will make the highways safer for motorists, pedestrians and residents?
Access Management: How can ITD and local communities manage the effect of development along the corridors so the roadways continue to function safely and efficiently?
Traffic: What are the best ways to improve current traffic flow and capacity throughout the corridors? Can we anticipate future congestion points and develop solutions?
Environment: What are the important environmental issues to consider when ITD builds improvements in the future?
Contacts
Adam Rush, ITD Office of Communications
Direct Line: (208) 334-8119
Email Address: Adam.Rush@itd.idaho.gov
D-5 Contact Info
District 5 Phone: (208) 239-3300
District 5 Fax: (208) 239-3367
---
Office of Communication Contact:
Adam Rush
Adam.Rush@itd.idaho.gov
D-5 Project Map
Freight