District 4 | South-Central Idaho
Overview
---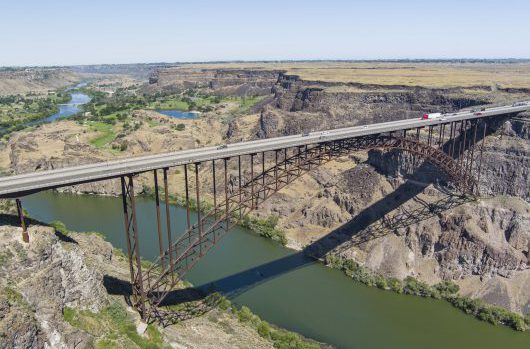 District 4 is made up of 11,553 square miles and maintains 2,321 lane miles and 290 bridges. It is the third largest district by area and by population with over 185,000 residents. District 4 has a diverse landscape with the highest Idaho mountain highway pass (Galena Summit, 8,721 ft.), fertile farms and the Snake River plain.
District headquarters is in Shoshone located in Lincoln County, where Jesse Barrus is the district (head) engineer. Former Idaho Legislator Jim Kempton, of Albion, has represented District 4 on the Idaho Transportation Board since February 2012.
---
District 4 Contact Information
District 4 Phone: 208-886-7800
District 4 Fax: 208-886-7895
216 South Date Street
Shoshone, ID 83352

Jim Kempton
Board Member
208-673-6261

Jesse Barrus
District Engineer
Email Jesse
News
Construction
Highway Construction in South-Central Idaho
For more information about projects in construction or planning phases go to: itdprojects.idaho.gov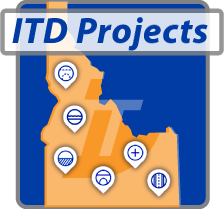 ---
For current construction & traffic conditions go to: 511.idaho.gov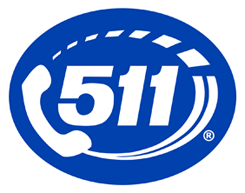 ---
Planning & Design
Projects in Planning or Design Phases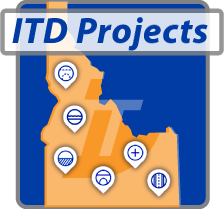 For more information on ITD project plans & map locations go to: itdprojects.idaho.gov
---
Studies
Project Facts
The Idaho Transportation Department (ITD) is planning a series of roadway improvements along U.S. 93 between the Interstate 84 junction and Idaho Highway 25 junction in Jerome County. The roadway is a critical link to local and through traffic on the U.S. 93 corridor. As many as 10,000 vehicles per day use this portion of roadway and volumes are expected to double within 20 years. Without adequate funding to complete a comprehensive reconstruction and expansion project, several shorter and focused projects will address safety and capacity concerns.
Public Hearing
Members of the public were invited to attend a public hearing and open house for the proposed changes to the Environmental Assessment and Finding Of No Significant Impact (EA/FONSI) for a portion of US-93 in Jerome County.
Public Hearing was held on Tuesday, April 17 from 4 to 7 p.m. at the Idaho Fish and Game Office located at 318 South 417 East in Jerome.
Project Background
The U.S. 93 corridor from I-84 to the Idaho 25 junction (6.4 miles) serve as a commuting route from the cities of Twin Falls, Jerome and Shoshone, is a primary route for intrastate and interstate distribution of goods and services, and is in the early stages of significant commercial development along the route.
To prepare for future projects, an environmental assessment was completed with an approved Finding of No Significant Impact in 2007. The overall purpose is to improve U.S. 93 between I-84 and Idaho 25 to provide a safe highway facility that meets the current and future needs of local and regional traffic as well as through travelers for personal, commercial, and agricultural uses. Highway improvement will specifically address the need for additional roadway capacity to reduce congestion caused by increasing traffic volumes between Jerome, Twin Falls and the Wood River Valley. The projects will also improve access to meet the demands of expanding development along the corridor. The proposed improvements will also meet the needs of traditional agricultural activities.
Roadway improvements are planned to meet the corridor's needs for the next 20 years. The completed Environmental Assessment also provided language requiring adequate space be provided on the west side of the highway for a future pedestrian/bicycle path.
The first corridor project, completed in 2011, reconstructed and widened about two miles of U.S. 93 from south of I-84 to near 450 South with a combination of concrete and asphalt paving. Construction through the 400 South Road intersection will be completed by the fall of 2018. Additional projects to reconstruct between 350 South and near Butte Drive north of Idaho Highway 25 are under design and will be constructed in coming years.
Project activities for each project will include ground survey to establish existing and required right of way and preliminary engineering. Right of way purchase will be required with each project for highway expansion. ITD is required to complete environmental reevaluation for each project area.
US-93 Documents
Contacts
Connie Jones, Senior Environmental Planner
(208) 886-7824 – connie.jones@itd.idaho.gov
Nathan Jerke, District 4 Public Information Contact
(208) 886-7809 – nathan.jerke@itd.idaho.gov
Study Description
The Idaho Transportation Department (ITD) is undertaking a roadway improvement study for the U.S. 20/Idaho 75 intersection, locally known as Timmerman Junction. To accomplish this, ITD will work collaboratively with local community leaders and representatives to evaluate a wide range of intersection alternatives. From this evaluation, the team will identify and propose near-term and long-term improvements for the intersection.
Funding for these proposals is not currently in place. However, the study will help provide direction necessary to pursue funding and future implementation.
Study Need
Timmerman Junction is a high crash location with several serious injury crashes occurring at the intersection over the past decade. ITD has installed numerous safety treatments at the intersection since 1990, but recognizes the need to investigate additional treatments that may further improve the safety of the location.
The goals of the study include:
Identify alternatives to improve the safety performance of the intersection.
Maintain acceptable operational performance of the intersection.
Identify and evaluate alternatives at the intersection in collaboration with local community leaders and representatives
Establish a prioritized implementation plan for proposed improvements at the intersection.
The study will consider recommendations and commitments from past planning efforts including the 2008 SH-75 Timmerman to Ketchum Environmental Impact Statement and Record of Decision, Blaine County Comprehensive Plan and Transportation Plan, and the 2011 Road Safety Audit of the US 20/SH 75 Intersection.
Study Information
Community Advisory Committee
Meeting #3 – October 5, 2016
Meeting #2 – July 14, 2016
Meeting #1 – April 7, 2016
Contact:
Bruce Christensen,ITD Traffic Engineer
(208) 886-7860 – bruce.christensen@itd.idaho.gov
Right-of-Way Permits
The Right-of-Way (ROW) permit tool is both a guide and an application for completing different types of ROW permits.
This tool helps you identify the appropriate type of permit.

Then the tool steps you through the specific process.

Within the tool are the digital forms to fill out online which expedites the application process.

Direct links to traditional ITD PDF forms are in the tool as another option.

The tool also includes Online Payment Portals for each ITD District Office.

The Payment Portals are always open 24/7.

Encroachment information & permitting resources are together in this new online tool location.
Right-of-Way Permit Tool

Remember, you will need to:
Include all requested plans and details with your completed application form.
Prepayment is required.

Include your payment portal receipt with your application.

Once the completed packet is submitted, allow 30 business days for processing
After the application is approved, contact ITD Maintenance Foreman at least five days prior to installation for start date approval.
---
Resources: Encroachment, Utility & Other Permits
This table contains resources for processing requests involving Idaho highway right of way. For additional details, see the "District Submittal" contacts below.
---
District Submittal Locations, Details & Contacts
Regional Locations
Office Hours
Email Contact & District Right-of-Way Resources
Counties & Specific Contacts
North Idaho | District 1
600 W. Prairie Ave
Coeur d'Alene, ID 83815
7 a.m. to 4 p.m.
Pacific Time
Email: D1permits@itd.idaho.gov
• District 1 | ROW Permit Quick Reference
• District 1 | ROW Permit FAQs
• District 1 | Traffic Impact Study FAQs
Counties: Benewah, Bonner, Boundary, Kootenai, Shoshone
Phone: 208-772-1297
North-Central Idaho | District 2
2600 Frontage Rd | P.O. Box 837
Lewiston, ID 83501
7 a.m. to 4 p.m.
Pacific Time
Email: Shane.Niemela@itd.idaho.gov
• District 2 | ROW Permit Quick Reference
• District 2 | ROW Permit FAQs
• District 2 | Traffic Impact Study FAQs
Counties: Clearwater, Idaho, Latah, Lewis, Nez Perce
Shane Niemela, 208-799-4239
Southwest Idaho | District 3
8150 Chinden Blvd
Boise, ID 83714
8 a.m. to 5 p.m. Mountain Time
Payments are not accepted after 3 p.m.
Payment Phone Line:
208-334-8300, Ext. 2
Email: ITDD3Permits@itd.idaho.gov
• District 3 | ROW Permit Quick Reference
• District 3 | ROW Permit FAQs
• District 3 | Traffic Impact Study FAQs
Counties: Ada, Adams, Boise, Canyon, Elmore, Gem, Owyhee, Payette, Washington, Valley
• Approach & Commercial Permits:
Josh Nopens, 208-332-7190
• Utility, Special Event & Other Encroachment Permits:
Shona Tonkin, 208-334-8341
South-Central Idaho | District 4
216 S. Date St
Shoshone, ID 83352
8 a.m. to 5 p.m. Mountain Time
Email: MaryEllen.Russell@itd.idaho.gov
• District 4 | ROW Permit Quick Reference
• District 4 | ROW Permit FAQs
• District 4 | Traffic Impact Study FAQs
Counties: Blaine, Camas, Cassia, Gooding, Jerome, Lincoln, Minidoka, Twin Falls
Mary Ellen Russell, 208-886-7839
Southeast Idaho | District 5
5151 S. 5th Ave
Pocatello, ID 83205
8 a.m. to 5 p.m. Mountain Time
Email: D5EncroachmentPermits@itd.idaho.gov
• District 5 | ROW Permit Quick Reference
• District 5 | ROW Permit FAQs
• District 5 | Traffic Impact Study FAQs
Counties: Bannock, Bear Lake, Bingham, Caribou, Franklin, Oneida, Power
Phone: 208-239-3300
East Idaho | District 6
206 N. Yellowstone Ave
Rigby, ID 83442
8 a.m. to 5 p.m. Mountain Time
Email: JR.Grotjohn@itd.idaho.gov
• District 6 | ROW Permit Quick Reference
• District 6 | ROW Permit FAQs
• District 6 | Traffic Impact Study FAQs
Counties: Bonneville, Butte, Clark, Custer, Fremont, Jefferson, Lemhi, Teton, Madison
JR Grotjohn, 208-745-5625
---
Roadway Sign Request Contacts
Truck Routes
DMV Ports of Entry, Freight Maps & Trip Permits
For all Motor Carrier Trucking Route Maps in Idaho go to the ITRPS website at:
Then click "Helpful Links" in the top left corner of the banner to access maps & attachments for the following:
Idaho Maps for Approved Routes Up to 129,000 lbs. (129K)
129K State Route Maps (by District/Region)
County Maps for Special Permit & Requirements
Vertical Clearance Maps | Pilot/Escort Requirements
Route Capacity Maps
Route Capacity Maps (by Color)
Contacts
Idaho Transportation Department, District 4 Office
Mail Address: P.O. Box 2-A, Shoshone, ID 83352
Location: 216 South Date Street, Shoshone, ID 83352
---
District 4 Phone: 208-886-7800
District 4 Fax: 208-886-7895
---
Accessibility | Title VI | Americans with Disabilities Act (ADA) Compliance
The Idaho Transportation Department (ITD) is committed to compliance with Title VI of the Civil Rights Act of 1964 and all related regulations and directives. ITD assures that no person shall on the grounds of race, color, national origin, gender, age, or disability be excluded from participation in, be denied the benefits of, or be otherwise subjected to discrimination under any ITD service, program, or activity. The department also assures that every effort will be made to prevent discrimination through the impacts of its programs, policies, and activities on minority and low-income populations. In addition, the department will take reasonable steps to provide meaningful access to services for persons with Limited English Proficiency.
TTY/TDD Users: Dial 711 or (800) 377-3529 to use Idaho Relay System