District 5 – Southeast Idaho
Overview
---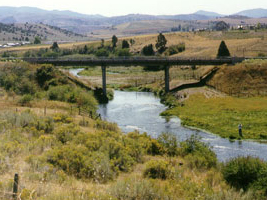 District 5 covers almost 9,500 square miles in southeastern Idaho and maintains 1,900 lane miles (lanes of road, on- and off-ramps, etc.) and 315 bridges.
District 5 encompasses seven counties, spanning rich farm land and geology from scenic mountains to serene rivers and secluded valleys.
District headquarters is at 5151 S. 5th Avenue in Pocatello, where Ed Bala is district (head) engineer. Former legislator Dwight Horsch, of Pocatello, has represented District 5 on the Idaho Transportation Board since June 2011.
---
District 5 Phone:
(208) 239-3300
District 5 Fax:
(208) 239-3367
Office of Communication Contact:
Megan Stark
– (208) 745-5611

Dwight Horsch
Board Member
(208) 221-4765

Ed Bala
District Engineer
Email Ed
Construction List
2018 Highway Construction in Southeast Idaho
More 2018 construction projects and details to come.
Go to 511.idaho.gov for the latest construction and traffic details.

Design Projects
News
Corridor Studies
Project Name: I-15/I-86 Corridor Study    Key Number: 9884
The Idaho Transportation Department (ITD) is studying I-15 and I-86 to identify current and future needs throughout the corridors. The study will result in a corridor plan that identifies policies and projects important to the development of these highways over the next 20 years.
Project Description
The completed corridor plan will include an analysis of the existing conditions on the highways; a forecast of future demand over the next 20 years; and a list of short- and long-term improvements on how to modernize transportation. The document will address the course of the highways as a whole and on a county-by-county basis. The plan will be based on community input, engineering analysis, and city, county and agency planning goals. ITD will include the plan in its Idaho Horizons Long Range Capital Improvement and Preservation Program (LRCIP). LRCIP is a planning document that helps ITD prioritize projects for future years.
The finished corridor plan will include:
Safety: What improvements will make the highways safer for motorists, pedestrians and residents?
Access Management: How can ITD and local communities manage the effect of development along the corridors so the roadways continue to function safely and efficiently?
Traffic: What are the best ways to improve current traffic flow and capacity throughout the corridors? Can we anticipate future congestion points and develop solutions?
Environment: What are the important environmental issues to consider when ITD builds improvements in the future?
Contacts
Adam Rush, ITD Office of Communications
Direct Line: (208) 334-8119
Email Address: Adam.Rush@itd.idaho.gov
The Idaho Transportation Department (ITD) is committed to compliance with Title VI of the Civil Rights Act of 1964 and all related regulations and directives. ITD assures that no person shall on the grounds of race, color, national origin, gender, age, or disability be excluded from participation in, be denied the benefits of, or be otherwise subjected to discrimination under any ITD service, program, or activity. The department also assures that every effort will be made to prevent discrimination through the impacts of its programs, policies, and activities on minority and low-income populations. In addition, the department will take reasonable steps to provide meaningful access to services for persons with Limited English Proficiency.
TTY/TDD Users: Dial 711 or (800) 377-3529 to use Idaho Relay System
Accommodation Requests
Accessibility Contact
External Americans with Disabilities Act (ADA) Grievance Procedure
Completed Projects
Southeast Idaho: Highway Construction Projects completed in 2017

Freight
Contact Info
District 5 Phone: (208) 239-3300
District 5 Fax: (208) 239-3367
---
Office of Communication Contact:
Bill Kotowski – (208) 334-8869
---
Address:
Idaho Transportation Department – District 5 Office
5151 S. 5th Ave
Pocatello, ID 83204-2202