Countdown until you must have your
Star Card to board a flight.
October 1, 2020

Star Card - Idaho's REAL ID

Beginning October 1, 2020, you will need a Star Card, U.S. Passport, military identification (ID), or some other form of federally accepted ID to board a flight or access a federal building.

If you want a Star Card, don't wait until the last minute! Get your documents together and go to your local Driver's License office today.

The requirements are different than getting a license or ID without a Star. Use the ADD the Star tool to get a personalized list of the documents you will need.



STAR CARD Quick Facts
A license or ID without a Star can still be used for most functions, just not for airport security to fly commercially or access to federal buildings, including military bases after Oct. 1, 2020. Go to Choosing not to get a Star Card for a list of alternative documents that allow you to fly commercially or access a federal facility without getting a Star Card.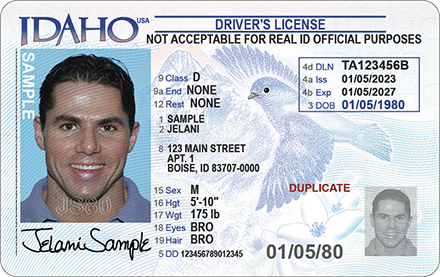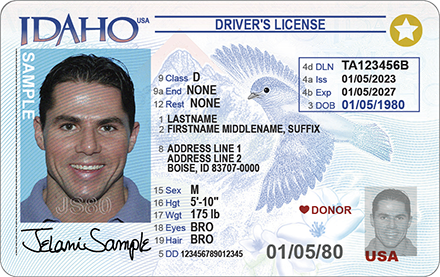 The only visual difference between the current Idaho driver's license and ID card design and the Star Card is the Star on the right hand side of the card. Both allow you to legally drive and prove your identity for tasks like buying alcohol, obtaining social services, or registering to vote.
Star Card will be available beginning in early 2018 in Idaho at the same locations where you get a driver's license or ID card. Obtaining a Star Card requires more documents than the process to get a license or identification (ID) card without the star.

You will need to provide documents such as a birth certificate, social security card, and two proofs of Idaho residency such as a mortgage statement, or current utility bill to verify:
Your identity
Your Social Security number
Your Idaho residency
Go to Acceptable Documents for a full list of the documents you can use to get the Star or use the Add the Star tool to develop a personal list of the documents you will need. Simply answer a few questions and the system will create a customized list of documents you need to bring with you to the DMV to get a Star Card.