US 20/26 Resurfacing Projects
Boise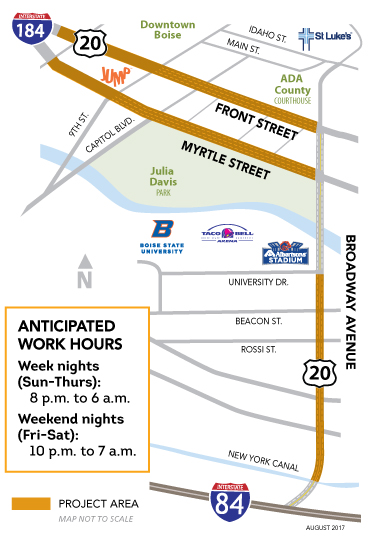 The Idaho Transportation Department is repaving Front Street, Myrtle Street and Broadway Avenue starting in May and finishing late summer. The repaving is necessary to restore and extend the life of the roadway.
US-20 Construction: Front, Myrtle & Broadway
Overview
The project will include milling off the worn asphalt and replacing it with new pavement.
Work includes:
Myrtle Street between I-184 (connector) and Broadway Avenue
Front Street between I-184 (connector) and Broadway Avenue
Broadway Avenue between Rossi Street and the New York Canal north of I-84
---
Schedule
Construction is anticipated to begin on Front and Myrtle Streets in mid-May and on Broadway Avenue in late June or July. The repaving work is expected to be completed in late summer.
What to expect during construction
The majority of construction will be scheduled on weeknights to keep all lanes open during the day. Please plan ahead and choose alternate routes when possible.
During work on Front and Myrtle streets, two lanes will be open at night.
During work on Broadway Avenue, one lane will be open in both directions at night.
All lanes and driveways will be open during the day. Motorists may drive on a rough surface.
ITD will work to notify businesses when nighttime paving will temporarily block driveways (up to two hours).
Most nights may require detours or flagging at signals.
Construction will be noisy.
---
Sign Up for Construction Updates
TEXT US2026 to 22828 | CALL 208-334-8938 | EMAIL Jennifer.Gonzalez@itd.idaho.gov
For more construction projects go to Southwest Idaho's Highway Construction List
Caldwell-Meridian

COMPLETE – U.S. 20/26 Resurfacing: Borchers Lane to Locust Grove Road
The Idaho Transportation Department (ITD) resurfaced U.S. 20/26 from Borchers Lane in Caldwell to Locust Grove Road in Meridian. The project will extend the road's lifespan and prevent more costly repairs in future years.
---
This project was completed in July 2017.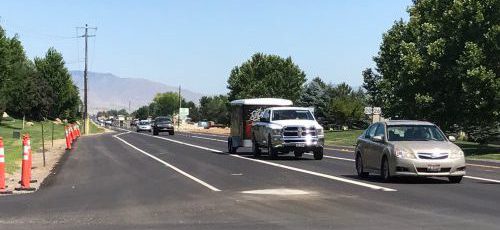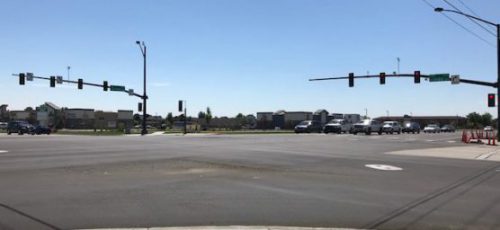 ---

---
• For more construction information go to Southwest Idaho's Entire Construction List