US 20/26 Resurfacing Projects
Boise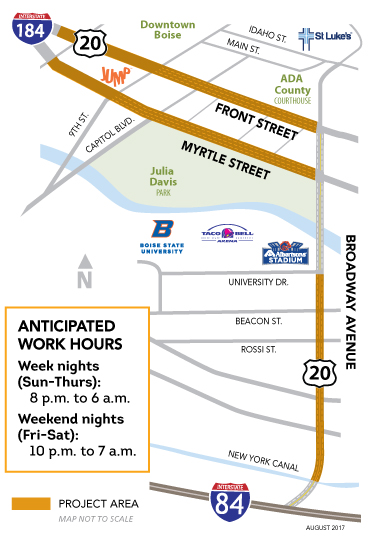 The Idaho Transportation Department repaved Front Street, Myrtle Street and Broadway Avenue during the summer of 2018. The repaving was necessary to restore and extend the life of the roadway.
US-20 Construction: Front, Myrtle & Broadway
Overview
The project included milling off the worn asphalt and replacing it with new pavement.
Work includes:
Myrtle Street between I-184 (connector) and Broadway Avenue
Front Street between I-184 (connector) and Broadway Avenue
Broadway Avenue between Rossi Street and the New York Canal north of I-84
---
Schedule
Construction began on Front and Myrtle Streets in mid-May and on Broadway Avenue in late June or July. The repaving work was completed in August 2018.
For more construction projects go to Southwest Idaho's Highway Construction List
Caldwell-Meridian

COMPLETE – U.S. 20/26 Resurfacing: Borchers Lane to Locust Grove Road
The Idaho Transportation Department (ITD) resurfaced U.S. 20/26 from Borchers Lane in Caldwell to Locust Grove Road in Meridian. The project will extend the road's lifespan and prevent more costly repairs in future years.
---
This project was completed in July 2017.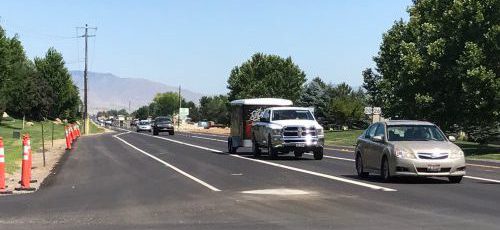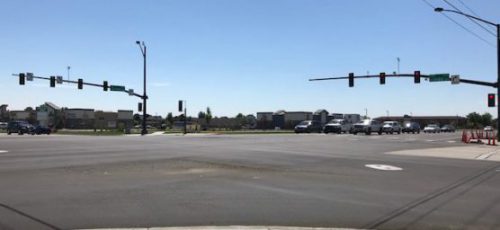 ---

---
• For more construction information go to Southwest Idaho's Entire Construction List



Track Title Time – Sections Covered
Idaho Driver Handbook – Introduction: Preface, Introduction, Fees (5:30 minutes)

One Driver: One Driver, One License, One Record (41:08 minutes)
VehicleEquipment 8:37 Vehicle Equipment & Safety
HighwayVehicleKnowlede 23:54 Highway & Vehicle Knowledge
TrafficLaws 24:24 Traffic Laws & Rules of the Road
DrivingTask 11:05 The Driving Task
ShareTheRoad 41:29 Sharing the Road
DrivingPrivilegeAndRecord 18:09 What Affects Your Driving Privilege and Record
What to Expect and Do When Stopped by Law Enforcement
QuestionsAndAnswersAndContactInfo 5:53 Practice Test Questions & Answers
Rear Cover Publishing and Contact Information