What documents do I need to obtain a driver's license or ID card with the Star?
Regardless of whether you are a new applicant or currently hold an Idaho driver license or identification card, you must bring the same types of documents to obtain your Star Card and comply with the Real ID Act.
To help applicants identify and gather the required documents, use the Idaho Transportation Department's
Add the Star Tool
. Simply answer a few questions and the system will create a customized list of documents for you to bring with you. You can also look at the
Star Card Checklist
.
The following documents must:
Be in your current legal name
Be dated within one year
Match the name on the documents proving your identity and Social Security card
Provide proof of your current physical address (P.O. Box not accepted)
Be originals or printed e-documents. Faxes are not accepted.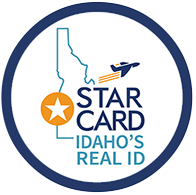 Acceptable Documents
To establish Identity, the applicant must provide one of the following source documents (must not be laminated)::

Valid, unexpired U.S. Passport
Certified birth certificate issued by a state of the United States.
Consular Report of Birth Abroad, Form FS-240, DS-1350 or FS-545.
Valid, unexpired Permanent Resident Card (Form I-551).
Unexpired employment authorization document (EAD), Form I-766 or Form I-688B.
Unexpired foreign passport with a valid, unexpired U.S. visa affixed accompanied by the approved I-94 form documenting the applicant's most recent admittance into the United States. (Must be accompanied by unexpired EAD card or other acceptable documents)
Certificate of Naturalization, Form N-550 or Form N-570.
Certificate of Citizenship, Form N-560 or Form N-561.
Note: If you chose a document that does not contain your photo (such as a birth certificate), an additional acceptable photo identity document will be required.
Applicants who have established names through marriage, adoption, court order, or other mechanisms, are required to provide evidence of the name change through appropriate court or government documents (must not be laminated).
Applicants must provide your social security number at issuance for electronic verification. If you do not know your number and have never been issued in Idaho please contact the Social Security Administration. If you do not have a social security number:

For temporary foreign nationals not authorized for employment – the Idaho Transportation Department will verify your USCIS number.
For temporary foreign nationals authorized for employment who do not have a SSN – you will be required to obtain and present one.
Applicants must provide two documents from different sources.. Documents must display the applicant's name and principal Idaho residence address. Acceptable documents (must not be laminated) include:

Lease/rental agreement, mortgage or deed
Account statement from one or two different public utilities. Must show service address of residency and customer's name; 3⁄4 statement page accepted. Cell phone bills are not accepted.
Account statement from bank or financial institution
Tax document Form W-2 or Form-1099 (may be the same document used in Step 3 above if dated within current year)
Medical or insurance provider statement, invoice, or explanation of benefits
Pay stub or employment verification (must list the customer's legal name)
Idaho school enrollment records with current address or VOC for current school year and current address (college ID not accepted)
Motel, hotel, campground or RV park receipt on letterhead that indicates 30 days or more of residency
Military Leave and Earning Statement (LES) to evidence Idaho residency of applicant deployed outside of Idaho while on active duty
Relief agency or shelter certification
Residency affidavit (must be signed by adult over 18)
Court documents (original or non-altered, and must have current address on the document for proof of Idaho residency)
Record of property taxes assessed or paid (receipt date within one year)
A vehicle, homeowner's, or renter's liability card, binder, or bill issued by an Idaho-based carrier (must be valid and unexpired, must have current residential address, and can be original paper, print, or photocopy of e-document)
Additional information about appropriate documents