Freight Program
ITD to meet with Freight Stakeholders in September 2021
These ITD meetings are an opportunity for stakeholders to provide feedback for use in updating the freight plan. The Idaho State Freight Plan identifies how ITD will strategically invest state and federal funding in infrastructure to increase the safety, capacity and efficiency of the freight system for the benefit of the Idaho economy.
---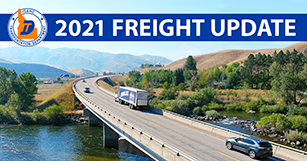 Dates & Cities for Freight Stakeholder Meetings
Lewiston on Sept. 2, 2021
Blackfoot on Sept. 16, 2021
Twin Falls on Sept. 21, 2021
Virtual opportunities will also be accommodated through the end of September.
For additional details go to: ITD to meet with freight stakeholders | News article posted August 16, 2021
---
The Idaho Transportation Department supports strong economic growth.
Roads, railroads, waterways, pipelines, and airport infrastructure are key components to a successful and efficient multimodal freight system. These components must work together to serve the needs of the region's economy and work to support the Idaho Transportation Department's mission of Your Safety, Your Mobility, and Your Economic Opportunity. Furthermore, effective, competitive, efficient and safe movement of freight relies on active participation of freight stakeholders throughout Idaho.
ITD is committed to fostering an atmosphere that encourages strong economic growth while ensuring safe and efficient travel for all of Idaho. If you, your organization, or business is interested in learning more about freight movement in Idaho, please contact our office to learn more about how we can assist.
129,000 lbs. Route Requests
129,000 lbs. Motor Vehicle Combination Routes
The Idaho Transportation Department is reviewing and analyzing requests to allow trucks up to 129,000 pounds (129K) to drive on non-interstate, state-maintained highway routes. The review of requests is being done in conjunction with the Idaho Transportation Department Board and a subcommittee, which will reject or approve requests for new routes.
---
For questions regarding 129K routes or the approval process, please email Scott.Luekenga@itd.idaho.gov or call Scott at 208-334-8057.
---
District 1 Route Applications
North Idaho – Counties: Benewah, Bonner, Boundary, Kootenai, Shoshone
• No pending requests
---
District 2 Route Applications
North-Central Idaho – Counties: Clearwater, Idaho, Latah, Lewis, Nez Perce
• No pending requests
---
District 3 Route Applications
Southwest Idaho – Counties: Ada, Adams, Boise, Canyon, Elmore, Gem, Owyhee, Payette, Washington, Valley
• No pending requests
---
District 4 Route Applications
South-Central Idaho – Counties: Blaine, Camas, Cassia, Gooding, Jerome, Lincoln, Minidoka, Twin Falls
• No pending requests
---
District 5 Route Applications
Southeast Idaho – Counties: Bannock, Bear Lake, Bingham, Caribou, Franklin, Oneida, Power
• No pending requests
---
District 6 Route Applications
Eastern Idaho – Counties: Bonneville, Butte, Clark, Custer, Fremont, Jefferson, Lemhi, Teton, Madison
• No pending requests
Transportation Board 129K Subcommittee Agendas
Transportation Board 129K Subcommittee Minutes
129,000 lbs. Additional Route Request Form
The Idaho Transportation Board Subcommittee on 129,000 Pound Truck Routes was established in 2013 to address legislation related to gross vehicle weights up to 129,000 pounds. The Subcommittee's charge was to develop the process to allow 129,000 pound gross vehicle weights on additional state routes and then to review requests for these additional routes and make a recommendation to the full Idaho Transportation Board. Subcommittee meetings will be held on an as-needed basis.
Prior to July 1, 2013, trucks configured to increase gross vehicle weights from 105,500 pounds to 129,000 pounds were permitted on a select number of state highways in southern Idaho via a pilot project. Legislation approved in 2013 made those 35 specified routes permanent and provided authority to the responsible highway jurisdiction to allow gross vehicle weights up to 129,000 pounds on additional specified routes.
Maps: Approved 129,000 lbs. Routes
Approved 129,000 lbs. (129K) Routes
– APPROVED – District 2 Route Applications
North-Central Idaho – Counties: Clearwater, Idaho, Latah, Lewis, Nez Perce
ID-13, US-12, ID-162
ID-13: From Junction ID-13 & Battle Ridge Rd to Junction ID-13 & US-12 in Kooskia
US-12: From Junction ID-13 & US-12 in Kooskia to Junction US-12 & ID-162 in Kamiah
ID-162: From Junction ID-162 & US-12 to Junction ID-162 & Old Highway 7
• ID-13, US-12, ID-162 Application
• Evaluation by ITD for ID-13, US-12, ID-162
• ID-13, US-12 and ID-162 Public Comments
• Letter of Determination
• 129K Subcommittee Meeting Minutes, April 22, 2021
ID-6, ID-8 and ID-9
ID-6: From Junction US-95/ID-6 to Junction ID-6/ID-9 | ~ 10 miles
ID-9: From Junction ID-6/ID-9 to Junction ID-9/ID-8 | ~ 13.5 miles
ID-8: From Junction ID-9/ID-8 to Junction ID-8/US-95 | ~ 23 miles
• ID-6, ID-8 and ID-9 Application
• Evaluation by ITD for ID-6, ID-8 and ID-9
• ID-6, ID-8 and ID-9 Public Comments
• Letter of Determination
---
– APPROVED – District 3 Route Applications
Southwest Idaho – Counties: Ada, Adams, Boise, Canyon, Elmore, Gem, Owyhee, Payette, Washington, Valley
ID-19, State Line to Homedale – ID-19 from Idaho/Oregon Border to US-95 (Homedale)
• ID-19 Application
• ID-19 Evaluation by ITD
• ID-19 Public Comments
• Letter of Determination
US 20/26 from I-84 to ID-16
• US20/26 Application
• US 20/26 Evaluation by ITD
• US 20/26 Public Comments
• Letter of Determination
I-84 Business Loop, Nampa – I-84B (Garrity Ext) to ID-45 to US-55 (Karcher Rd)
• I-84B Application
• I-84B Evaluation by ITD
• I-84B Public Comments
• Letter of Determination
I-84 Business Route (I-84B/Centennial Way) | ID-19: Payette Ave to I-84
• I-84B/Centennial Way Application
• I-84B/Centennial Way Evaluation by ITD
• I-84B/Centennial Way Public Comments
• Letter of Determination
ID-52: ID-72 to Emmett
• ID-52 Application
• ID-52 Evaluation by ITD
• District 3 Public Comments for ID-52, ID-72, US-30, ID-16
• Letter of Determination
ID-72: US-30 to ID-52
• ID-72 Application
• ID-72 Evaluation by ITD
• District 3 Public Comments for ID-52, ID-72, US-30, ID-16
• Letter of Determination
US-30: US-95 to ID-72
• US-30 Application
• US-30 Evaluation by ITD
• District 3 Public Comments for ID-52, ID-72, US-30, ID-16
• Letter of Determination
ID-16: ID-52 to ID-44
• ID-16 Application
• ID-16 Evaluation by ITD
• District 3 Public Comments for ID-52, ID-72, US-30, ID-16
• Letter of Determination
ID-52: Savage Services to ID-16
• ID-52 Application
• ID-52 Evaluation by ITD
• District 3 Public Comments for ID-52, ID-72, US-30, ID-16
• Letter of Determination
ID-55: I-84 to ID-44
• ID-55 Application
• ID-55 Evaluation by ITD
• Public Comments
• Letter of Determination
ID-69: Kuna to I-84
• ID-69 Application
• ID-69 Evaluation by ITD
• Public Comments
• Letter of Determination
---
– APPROVED – District 4 Route Applications
Southeast Idaho – Counties: Blaine, Camas, Cassia, Gooding, Jerome, Lincoln, Minidoka, Twin Falls
ID-81 Spur: From the I-84/Yale Road Interchange to ID-81 east of Declo
• ID-81 Spur Application
• Evaluation by ITD for ID-81 Spur in Cassia County
• No public comments were received
• Letter of Determination
US-93: Twin Falls US-30 to Washington St.
• US-93 Application
• US-93 Evaluation by ITD
• Letter of Determination
ID-46: Wendell I-84 to Buhl
• ID-46 Application
• ID-46 Evaluation by ITD
• Letter of Determination
ID-79: Jerome Over I-84
• ID-79 Application
• ID-79 Evaluation by ITD
• Letter of Determination
ID-75: US-26 to Airport Way in Hailey
• ID-75 Application
• ID-75 Evaluation by ITD
• Public Comments
• Letter of Determination
US-93: ID-25 to Washington Street (Twin Falls)
• US-93 Application
• US-93 Evaluation by ITD
• Public Comments
• Letter of Determination
ID-46: Wendell Over I-84
• ID-46 Application
• ID-46 Evaluation by ITD
---
– APPROVED – District 5 Route Applications
Southeast Idaho – Counties: Bannock, Bear Lake, Bingham, Caribou, Franklin, Oneida, Power
I-86 Business Loop (BL): I-86 to ID-39
• I-86BL Application
• I-86BL Evaluation by ITD
• Public Comments
• Letter of Determination
US-26: District 5/6 Boundary to Blackfoot
Note: This case is the District 5 segment of a request for US-26 with segments in both District 5 and District 6. See District 6 cases for that portion of the request and evaluation.
• US-26 Application
• US-26 Evaluation by ITD
• Public Comments
• Letter of Determination
US-30: Great Western Malting to Yellowstone Avenue
• US-30 Application
• US-30 Evaluation by ITD
• Public Comments
• Letter of Determination
US-89: Geneva to Wyoming Border
• US-89 Application
• US-89 Evaluation by ITD
• Public Comments
• Letter of Determination
US-89: Utah Border to Geneva
• US-89 Application
• US-89 Evaluation by ITD
• Public Comments
• Letter of Determination
US-91: Preston to I-15
• US-91 Application
• US-91 Evaluation by ITD
• Public Comments
• Letter of Determination
US-91: I-86 to WinCo Foods (Pocatello)
• US-91 Application
• US-91 Evaluation by ITD
• Public Comments
• Letter of Determination
ID-34: Blackfoot Reservoir to Wyoming Border
• ID-34 Application
• ID-34 Evaluation by ITD
• Public Comments
• Letter of Determination
ID-37: Oneida-Power County Border to I-86
• ID-37 Application
• ID-37 Evaluation by ITD
• Public Comments
• Letter of Determination
ID-38: I-15 to Holbrook
• ID-38 Application
• ID-38 Evaluation by ITD
• Public Comments
• Letter of Determination
ID-61: Geneva to Wyoming Border
• ID-61 Application
• ID-61 Evaluation by ITD
• Public Comments
• Letter of Determination
---
– APPROVED – District 6 Route Applications
Eastern Idaho – Counties: Bonneville, Butte, Clark, Custer, Fremont, Jefferson, Lemhi, Teton, Madison
US-93: From Junction US-93 & US-20 in Arco to Junction US-93 & ID-75 south of Challis
• 129K Route Application for US-93
• 129K Route Evaluation by ITD for US-93
• US-93 Public Comments
• 129,000 Subcommittee Meeting Notes
• Letter of Determination
US-93: ID-75 to Montana Border
• US-93 Application
• US-93 Evaluation by ITD
• US-93 & ID-75 Public Comments
• Letter of Determination
ID-75: Clayton Mill to US-93
• ID-75 Application
• ID-75 Evaluation by ITD
• US-93 & ID-75 Public Comments
• Letter of Determination
US-20: I-15 to US-20
Note: This application connects I-15 to the previously approved section of US-20 northeast of Idaho Falls
• US-20 Application
• US-20 Evaluation by ITD
• Public Comments
• Letter of Determination
US-26: Idaho Falls to Wyoming Border
• US-26 Application
• US-26 Evaluation by ITD
• Public Comments
• Letter of Determination
US-26: US-20 to District 5/6 Boundary
Note: This case is the District 6 segment of a request for US-26 with segments in both District 5 and District 6. See District 5 cases for that portion of the request and evaluation.
• US-26 Application
• US-26 Evaluation by ITD
• Public Comments
• Letter of Determination
ID-28: Salmon to ID-22
• ID-28 Application
• ID-28 Evaluation by ITD
• Public Comments
• Letter of Determination
ID-32: Simplot Facility to Ashton
• ID-32 Application
• ID-32 Evaluation by ITD
• Public Comments
• Letter of Determination
ID-32: ID-33 to Simplot Facility
• ID-32 Application
• ID-32 Evaluation by ITD
• Public Comments
• Letter of Determination
ID-47: Section in Ashton
• ID-47 Application
• ID-47 Evaluation by ITD
• Public Comments
• Letter of Determination