The Board
Who Makes the Decisions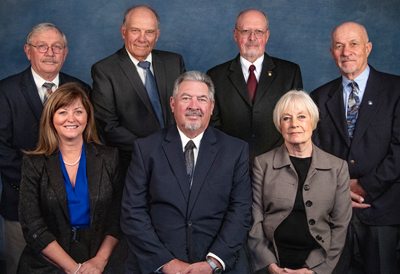 The seven-member Idaho Transportation Board meets once a month to oversee the operations of the Idaho Transportation Department. The Idaho Transportation Board establishes state transportation policy and guides the planning, development and management of a transportation network that is safe, efficient and enhances Idaho's economy and quality of life. The Idaho Transportation Board normally meets six times in Boise and six times across the state annually.
Idaho Transportation Board Appointment
The governor appoints the board members, who are confirmed by the Idaho Senate. Six members represent each of ITD's administrative districts and the seventh member is selected by the governor to serve as chairman.
Terms
Six of the seven board members are appointed to six-year terms beginning February 1. Terms are staggered so that one member's term expires each year. The seventh member serves at the pleasure of the governor, acts as chair and casts a ballot only in the case of a tie vote. No more than four members may be of the same political party.
Compensation
Members of the Transportation Board are paid $75 for each day they are involved in board related duties and are reimbursed for necessary expenses.
How to attend a board meeting or contact a board member
The Idaho Transportation Board meetings are open meetings and the public is invited to attend.
For additional information, or to contact the Transportation Board, contact:
Lorraine Dennis, Executive Assistant to the Board | Telephone: 208-334-8808 | E-mail: Lorraine.Dennis@itd.idaho.gov
3311 W. State St. | P.O. Box 7129, Boise, ID 83707-1129
The Idaho Transportation Board is comprised of seven citizens appointed by the Idaho Governor and confirmed by the Idaho Senate. The transportation board is authorized to control, supervise, and administer the Idaho Transportation Department.
One of the board's critical roles is to select and fund statewide transportation projects. Improving and properly funding Idaho's infrastructure is a key component of Governor Brad Little's vision to strengthen and diversify the state's economy. Without a strong, efficient transportation system, this will not be possible.
The Idaho Transportation Board recognizes the link between the state's economy and transportation investments. From moving freight and agricultural goods, to meeting the needs of commuters, and improving our transit system for all modes of transportation in our growing state, the board's goal is to provide a safe, mobility-focused transportation system that moves at the speed of business and drives economic opportunity.
The Idaho Transportation Department staff makes recommendations and the board selects projects based on engineering, safety and economic analyses. The board's goals are to increase the safety and efficiency of how people travel and goods are transported, generate jobs and business revenue and grow Idaho's gross domestic product. Although the economy is a vital component of the department's efforts, safety will not be compromised for economic opportunity.
My personal goal as board chairman is to give good strategic guidance to the department and make sure it provides outstanding customer service as it maintains and improves our roadways, administers motor vehicles services and maintains our remote airstrips. We will do all of this while keeping our mission of "your safety, your mobility and your economic opportunity" as the foundation for decision making.
As we help shape the future of transportation in Idaho, we rely on input from citizens, nearly a dozen transportation advisory boards, state legislators, regulators, other government agencies, and the Governor. Ultimately, the transportation system belongs to the citizens of Idaho and travelers who depend on it to carry them safely across our great state.

Bill Moad
Chairman
Idaho Transportation Board
Board Members


Bill Moad, Chairman, Caldwell
Retired as Director Fleet Operations after 37 years at Simplot Co.
Prior to career at Simplot Co., was a heavy construction equipment operator
From 1970 to 1977 worked at Burke Hudelson Ford and Happy Day Ford as a service writer and in sales/service, respectively
Past chairman of the Idaho Transportation Board's Trucking Advisory Council
Past chairman of the Idaho Trucking Association and Idaho Truck Pac Inc.
Past chairman of the Middleton School Board
Past President of Caldwell Night Rodeo
Appointment: Serves at the pleasure of the Governor; 7/1/19 –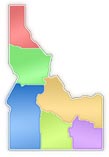 ---

Jim Thompson, Member, Sandpoint
Represents District 1
Professional Engineer, retired heavy construction manager with more than 30 years of experience, including owning his own company and consulting with other projects.
Experience working in heavy construction managing pipelines, piling, shoring, and structural concrete.
Served on the Engineering and Utilities Contractors Association board of directors, as well as the board of directors for the Pile Driving Contractors Association.
Worked on civil projects for Exxon, Shell, Unocal, Pacific Refinery, the U.S. Army Corps of Engineers, Cal-Trans, BART, City of San Francisco, San Francisco Airport, and Duke Energy (PG&E) power plant work.
Graduated from the University of Idaho in 1966.
Registered civil engineer in Idaho and California.
Appointment: 3/12/19 – 1/31/25
Counties: Benewah, Bonner, Boundary, Kootenai, Shoshone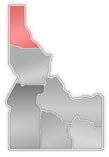 ---
Gary Osborn, Member, Troy
Appointment: 12/1/21 – 1/31/22
Counties: Clearwater, Idaho, Latah, Lewis, Nez Perce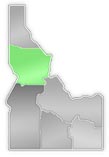 ---

Julie DeLorenzo, Member, Boise
Represents District 3
Owner Julie DeLorenzo Realty, real estate consulting
Founding member Keller Williams Realty Boise since 1999
National Association of REALTORS®: Past Regional Vice President and Board of Directors; Past Chair Federal Financing & Housing Policy Committee; Past Chair Public Policy Coordinating Committee; current member Public Advocacy Advisory Group
Past President, Idaho Association of REALTORS®; current State Director
Idaho REALTOR® of the Year 2003
Past President and Board of Directors, Women's and Children's Alliance
Former: Boise School District Facilities Committee, Troop 100 Boy Scouts, Habitat for Humanity, Idaho Human Rights Education Center
Appointment: 03/12 – 1/31/15
Reappointed: 2/1/15 – 1/31/21 and 2/1/21 – 1/31/27
Counties: Ada, Adams, Boise, Canyon, Elmore, Gem, Owyhee, Payette, Valley, Washington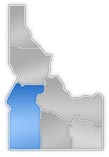 ---

Jim Kempton, Member, Albion
Represents District 4
Twin Falls native
Vietnam veteran
Graduated from the University of Idaho
Served as assistant professor of physics, Air Force Academy
Former liaison between the Secretary of Commerce and Secretary of Defense
Five terms in the Idaho House of Representatives
Represented Idaho on the Northwest Power and Conservation Council
Former member of the Idaho Public Utilities Commission
Former chairman of the House Transportation and Defense Committee
Chaired the Forum on Transportation Investment
Former member of the Governor's Task Force on Transportation Investment
Appointment: 2/1/12 – 1/31/18
Reappointed: 2/1/18 – 1/31/24
Counties: Blaine, Camas Cassia, Gooding, Jerome, Lincoln, Minidoka, Twin Falls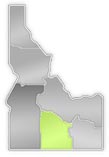 ---

Dwight Horsch, Member, Pocatello
Represents District 5
Dwight Horsch brings an extensive background in public service to the Idaho Transportation Board. A lifelong farmer in the Pocatello and Aberdeen areas, he is a former legislator and served on an advisory panel to the State Board of Education on vocational education issues. He also was a member of the Idaho Judicial Council and served on the Idaho State Soil Conservation Commission and its successor, the Idaho State Soil and Water Conservation Commission.
He was elected to three terms in the Idaho House (1979-1984) and a term in the Idaho Senate (1985-86).
Horsch also was president of the Potato Growers of Idaho and served on the National Potato Council.
Appointment: 6/1/11 – 1/31/17
Reappointment: 2/1/17 – 1/31/23
Counties: Bannock, Bear Lake, Bingham, Caribou, Franklin, Oneida, Power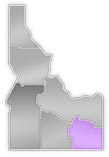 ---

Robert "Bob" Hoff, Member, Idaho Falls
Represents District 6
Longtime Idaho Falls businessman and pilot. His family settled in Idaho Falls in 1903 on one of the first potato ranches in Idaho.
Owner of Aero Mark Inc. in Idaho Falls, an aviation business he started in 1984.
Inducted into the Idaho Aviation Hall of Fame in 2006 and is currently a member of the Board of that organization.
Former member of the Idaho Aeronautics Advisory Board for 15 years, retiring from the board in 2010.
Appointment: 3/12/19 – 1/31/20
Reappointment: 2/1/20 to 1/31/26
Counties: Bonneville, Butte, Clark, Custer, Fremont, Jefferson, Lemhi, Madison, Teton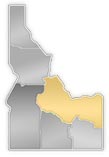 Schedule & Agendas
2022 Board Schedule & Agendas
Disclaimer: The board meeting packets posted on the site are draft working documents. The material in the packets, including the meeting agenda, is subject to change.
See meeting details in the table below including the call-in information for listening to upcoming Board meeting.
Due to COVID-19, board meetings may be conducted remotely. Board meeting schedule may change based on what is happening with COVID-19.
---
2022 Meeting Schedule
2022 Dates
City
Location
Agenda
Board Packet
January 12, 2022
Boise (Adjustments Subcommittee)
District 3
Agenda: Adjustments Subcommittee - January 12, 2022

Packet: Adjustments Subcommittee - January 12, 2022
January 12, 2022
Boise (Policies Subcommittee)
District 3
Agenda: Policies Subcommittee - January 12, 2022

Packet: Policies Subcommittee - January 12, 2022
January 13, 2022
Boise

District 3
Agenda - January 13, 2022
Call-in details for listening to this meeting
Call: 1-415-655-0003 US Toll
Meeting number (access code): 2465 587 7820
Meeting password: #1234
Packet: January Board Meeting
REVISED Meeting Location
Chinden Campus Conference Center
11351 W. Chinden Blvd, Building 6
February 17, 2022
Boise
District 3
March 23-24, 2022
Shoshone
District 4
April 20-21, 2022
Pocatello
District 5
May 18-19, 2022
Idaho Falls
District 6
June 15-16, 2022
Boise
District 3
July 20-21, 2022
Lewiston
District 2
August 17-18, 2022
Coeur d'Alene
District 1
Meeting Minutes
Subcommittees
Idaho Transportation Board
Subcommittee on Adjustments to the State Highway System
The Board Subcommittee on Adjustments to the State Highway System was established in 1996 to review adjustments to the state highway system. After the Subcommittee considers a request, it submits a recommendation to the Idaho Transportation Board for action.
Members of the Subcommittee are Jim Kempton, who serves as chairman, and Bob Hoff. Jim Thompson serves as the rotating member, participating on the Subcommittee unless a route in a non-Subcommittee member's district is under consideration to ensure that district is represented by his/her board member. From ITD, the Chief Engineer, a Deputy Attorney General, Transportation Planning Services staff, and the Executive Assistant to the Board and the Local Highway Technical Assistance Council Administrator and a Federal Highway Administration representative provide assistance.
The Board Subcommittee meets on an as-needed basis. Subcommittee meetings are open to the public.
Meeting agendas and minutes can be found at the "Schedules & Agendas" tab and the "Meeting Minutes" tab (above).
For additional information contact the Executive Assistant to the Board, Lorraine Dennis, at Lorraine.Dennis@itd.idaho.gov
Idaho Transportation Board
Subcommittee on 129,000 Pound Truck Routes
---
For questions regarding 129k routes or the approval process, please email Scott.Luekenga@itd.idaho.gov or call Scott Luekenga at 208-334-8057.
ITD Executive Team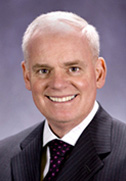 Idaho Transportation Department
Director – Brian Ness
A life-long transportation professional, Brian W. Ness was appointed Director of the Idaho Transportation Department (ITD) in November 2009. He is responsible for an annual budget of approximately $800 million and provides leadership and vision for more than 1,650 employees.
Director Ness is a member of the American Association of State Highway and Transportation Officials' (AASHTO) Board of Directors, the Western Association of State Highway and Transportation Officials' (WASHTO) Board of Directors, the Transportation Research Board's (TRB) Board of Directors, the American Road and Transportation Builders Association's (ARTBA) Board of Directors, and the Idaho Rural Partnership's Board of Directors. He is also a member of the Pacific Northwest Economic Region Idaho Council, and was appointed by the Governor to chair the Idaho Autonomous and Connected Vehicle Testing and Deployment Committee.
In 2019, Director Ness became President of the ARTBA's Transportation Officials Division. ARTBA represents the combined interests of the contracting industry, the consulting community, and the owners of the transportation system. Functioning as a non-partisan federation based in Washington D.C., ARTBA advances public policy designed to increase federal transportation investment and improve the efficiency of the project-delivery process.
In 2018, Director Ness was appointed to TRB's Executive Committee and in addition serves on their Subcommittee on Planning and Policy Review (SPPR). The TRB is a unit of the National Academy of Sciences, Engineering and Medicine, and serves as an independent adviser to the President of the United States, the Congress, and federal and state agencies on scientific and technical transportation issues of national importance.
Director Ness served as Chair of the AASHTO Special Committee on Research and Innovation until 2017. He testified before the U.S. House of Representatives Subcommittee on Research and Technology in 2019 on "The Need for a National Surface Transportation Research Agenda."
Director Ness chaired the AASHTO Special Committee on Transportation Security and Emergency Management (SCOTSEM) until August 2017. Through his leadership of SCOTSEM, he achieved national recognition for applying his organizational model to emergency management and security, which has helped reshape SCOTSEM's strategic plan.
In 2015, Director Ness was President of WASHTO. In this position, he served as a regional representative to AASHTO's Executive Committee. In addition, Director Ness sponsored the WASHTO Highway Transport Committee, and was the creator and sponsor of WASHTO's Emerging Leaders Program.
Under Director Ness' leadership, the Idaho Technology Council recognized the department as a finalist for Innovative Company of the Year in 2016, and for a second time in 2019. On both occasions, ITD was the only public-service state agency nominated. Director Ness received the 2016 Navigator Award from the national organization, Route Fifty. The award, in the "Agency and Department Chiefs" category, is based on his citizen-focused approach to government and transformative style. Director Ness was named Trine University's (formerly Tri-State University) 2014 Alumni of the Year.
ITD began an employee-driven innovation program in 2014. Since that time, the department has implemented more than 1,700 innovations, saved nearly $35 million, created 691 customer-service improvements, and saved 540,000 contractor and employee hours.
In 2013, ITD earned AASHTO's President's Award for Administration for its realignment efforts. Director Ness was honored in 2012 as Leader of the Year by the Treasure Valley Chapter of Women's Transportation Seminar, and since Director Ness joined the department, ITD has received nearly 170 national awards for its programs and projects, including the prestigious Francis B. Francois Award for Innovation. Under Ness, ITD has won 17 AASHTO President's Transportation Awards, competing against all other state departments of transportation. Statistically, ITD should have only won two or three of these awards.
Director Ness is a nationally recognized authority on organizational realignment and speaks regularly at national conferences for both the public and private sectors about how to structure a more effective and accountable state government. He conducts seminars each year on his "Nine Steps to a Results-Focused Culture" for the National Transportation Leadership Institute's (NTLI) senior and executive-level management courses.
Director Ness earned a Bachelor of Science degree in Civil Engineering from Tri-State University and a Master's degree in Public Administration from Western Michigan University. He is a licensed professional engineer in Michigan and Idaho. Before becoming director at ITD, he worked for 30 years at the Michigan Department of Transportation (MDOT), holding a variety of positions in research, operations, aeronautics, construction, and project development. Director Ness ended his career with MDOT as the North Region Administrator/Engineer.
---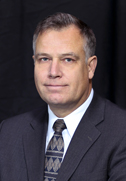 Chief Deputy – Scott Stokes
Scott Stokes, a 30-year Idaho Transportation Department veteran, became chief deputy in 2007 after a long tenure as district engineer in northern Idaho. As chief deputy, Mr. Stokes oversees the divisions of Aeronautics, Motor Vehicles, Public Transportation, and highway bonding programs, and has primary responsibility for much of the department's daily operations.
Mr. Stokes is chairman of the Idaho Traffic Safety Commission and is intimately involved in all facets of highway safety for the department. He is a leading advocate of the drive to achieve zero deaths on Idaho highways by promoting driver responsibility and accountability. In support of ITD's strategic plan, Mr. Stokes also is engaged in the department's internal and external efforts to promote economic opportunity through transportation and to increase mobility for Idaho businesses and travelers.
Mr. Stokes joined the department in 1992 and served as the state bridge engineer early in his career. He earned bachelor's and master's degrees in civil engineering from Brigham Young University and worked for a private Idaho engineering firm about eight years before joining ITD developing community public works projects and regional commercial developments.
The Idaho Transportation Board announced Mr. Stokes as the next ITD Director on October 1, 2021. He will replace long time Director Brian Ness after he retires on May 28, 2022.
---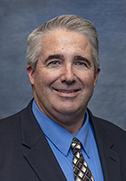 Chief Operations Officer – Dan McElhinney
Dan McElhinney accepted the position of Chief Operations Officer for the Idaho Transportation Department (ITD) effective August 10, 2020, after an extensive national search. As the Chief Operations Officer for ITD, he provides leadership and support to the six District Engineers and district employees across the state in highway planning, design, construction, maintenance and traffic operations helping to serve the traveling public and local communities. Daily our 1600 ITD employees are focused on operating and improving an integrated network of over 12,000 highway lane miles with over 1,800 bridges, 34 rest areas, and 12 fixed ports of entry.
Dan brings a wealth of experience with him to ITD. During his career, he has dealt with many issues that our department will be facing such as rapid growth, innovative contracting and autonomous vehicles. He has demonstrated a history of seeing tough projects through to the finish line and bringing diverse groups together. Dan has quickly become a very valuable asset to our team as he is the kind of collaborative leader who brings people together to make us the best transportation department in the country.
Dan comes to ITD from the California Department of Transportation (Caltrans) where he served as District 10 Director in Stockton. As District Director, he was responsible for overseeing more than 3,500 lane miles in eight counties, leading 600 employees and managing a nearly $2 billion capital program asset management plan and an annual operating budget of more than $150 million. He also brings experience serving on a variety of commissions and policy councils. As District Director, Dan served as Commissioner on the Delta Protection Commission and as a Caltrans Ex-Officio member of the San Joaquin Regional Rail/Altamont Corridor Express Commission, the Stanislaus Council of Governments, and the San Joaquin Council of Governments. He previously served a six-year term as a Commissioner on the San Francisco Bay Conservation & Development Commission (BCDC) and on the BCDC Sea Level Rise Policy Group.
Prior to accepting the District 10 position, Dan served as the San Francisco Bay Area District 4 Chief Deputy Director where he was responsible for over 7,000 lane miles in nine counties for 16 years where he led more than 3,000 employees and had oversight for a construction program in excess of $10 billion during that time. Dan also served as the State Toll Bridge Program Manager leading rehabilitation or replacement of 7 toll bridges covering 20 miles of Bay Area crossings in partnership with the Bay Area Toll Authority. Previously he was a Deputy District Director/Principal Manager of the Caltrans North Region of 22 counties. These are just a few of the many positions that he held during his 32 years at Caltrans. Dan is a licensed civil engineer who graduated from the Colorado School of Mines with a Bachelor of Science Degree in Engineering with Minors in Surveying and Metallurgy.
---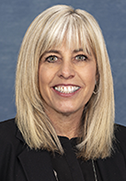 Chief Human Resources Officer – Brenda Williams
Brenda Williams brought an extensive background in human resources to the Idaho Transportation Department in October 2013 when she became the department's Chief Human Resources Officer (CHRO). Recently, she was the Area Human Resources Manager for Republic Services (formerly Allied Waste Services), in Salt Lake City, where she provided strategic leadership for multiple states. She achieved key business objectives in the areas of development, succession planning, and performance management. Republic is a Fortune 500 company that specializes in environmental services with 31,000 employees in 40 states, including Idaho.
Williams was also the Director of Human Resources for Comcast Corp., (formerly AT&T Broadband), in Salt Lake City, for multiple locations throughout the state. She was instrumental in driving employee engagement through management and employee action teams. Williams was promoted to the position after serving as Director of Staffing and Organizational Development for AT&T Broadband.
---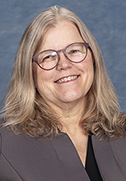 Chief Administrative Officer – Charlene McArthur
After a successful career in the private sector, Charlene "Char" McArthur assumed the position of Chief Administrative Officer at the Idaho Transportation Department in October 2013. She previously served as the Global Corporate Controller for the Fluke Corp., a Danaher Operating Company located in Everett, Wash. She was responsible for the company's financial reporting, internal control, and managing working capital targets of more than 20 subsidiaries throughout the world.
Char attributes her success to developing skilled, dedicated and engaged employees who strategically focus continuous improvement efforts on the organization's strategic priorities. McArthur, a Boise native, graduated from Boise State University with a BBA in accounting. She has worked in both public accounting and private industry. Char is a licensed CPA.

---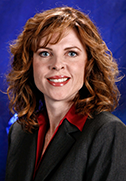 Chief External Affairs Officer – Mollie McCarty
Mollie McCarty was appointed to the Idaho Transportation Department's executive team as the first Chief External Affairs Officer in November of 2021, after 23 years with the department in communication and governmental affairs positions. From 2008 to 2021, McCarty led the department's policy and government relations efforts during several key transportation initiatives including Governor Otter's 2011 Task Force on Modernizing Transportation Funding and the Idaho Legislature's 2015 transportation revenue enhancement.
McCarty also served the department from 1998 to 2008 as Public Information Officer for the southwest Idaho district during the first and second construction stages of the WYE Interchange in the Treasure Valley.
Prior to her service at the transportation department, McCarty managed public relations projects at advertising agency Elgin Syferd Drake (now Drake Cooper). She also worked in television and radio news broadcasting for 10 years, starting as a reporter and advancing to anchor. Her last seven years were in Boise at CBS affiliate KBOI TV.
McCarty holds a bachelor's degree in communications from Pacific Lutheran University in Tacoma, Wash., with a broadcast emphasis.