Planning
Transportation facilities help shape an area's economic future and quality of life while providing safe and efficient mobility of people and goods. Transportation planning plays a fundamental role in the state, region, or community vision for its future.
The Department's American with Disabilities Act Transition Plan is an action plan that outlines how ITD will upgrade existing pedestrian infrastructure to remove barriers to access. ITD is currently updating the previous transition plan and is asking the public to comment on the proposed changes.
The public can comment September 17, 2021 through October 18, 2021 in several ways.
After receiving public comments, the department will review/address comments and amend the draft into a final document. The final ADA Transition Plan will then be presented to ITD's Chief Engineer for approval.
---
A virtual public information meeting was held on Tuesday, September 28, 2021.
Click on the YouTube video below to review this meeting's information.
---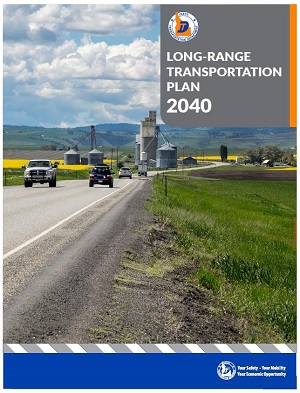 In July of 2019 at the Idaho Transportation Board meeting, staff members presented to the Board a final draft of the 2040 Long-Range Transportation Plan. The Long-Range plan outlines the recommendations that ITD will use through 2040. The Board approved the plan with the understanding that it would be sent to the FHWA for their review.
On November 11, 2019 after further review the FHWA had no objections to the plan verifying that it conformed to the FAST (Fixing America's Surface Transportation) Act.
The final adoption of the document came in December 2019. Since ITD committed to communicating with the public, staff worked to develop a short version of the plan that outlines the recommendations in context.
Transportation planning includes a comprehensive consideration of possible strategies, an evaluation process that encompasses diverse viewpoints, the collaborative participation of relevant transportation-related agencies and organizations, and open, timely, and meaningful public involvement.
---
To effectively manage public outreach plans and activities, ITD staff need information, resources and recommended tools to implement and conduct an effective public outreach effort. The Public Outreach Planner (POP) is a tool for analyzing, quantifying and tracking public outreach needs, which will ultimately lead to appropriate and efficient project management.
---
One of the greatest challenges facing Idaho's transportation system is how to meet the needs of a rapidly growing population and ever-changing economy. According to the U.S. Census Bureau, Idaho is the ninth fastest growing state in the country, and the Idaho Department of Labor says that Idaho's population will grow at three times the national rate, or 15.3% between now and 2025.
Through transportation planning, the Idaho Transportation Department:
Articulates a long-term vision for Idaho's state highway system
Implements statewide transportation policy through partnerships with federal, state, regional, and local agencies
Oversees the framework for the department's project management process
Employs a number of tools to manage projects efficiently and effectively
Provides geographic information products and services through the development of spatially enabled application, databases, mapping products, analysis, education, and technical support.
Partners
The Idaho Transportation Department (ITD) recognizes the benefits and advantages of working closely with our partners to maximize limited resources, to build consensus and resolve conflicts. ITD partners with many agencies and in many ways, from long-range transportation planning to project development. Outlined below are some of our most common partnerships. To find out more about these agencies, click on the links to go directly to their web pages for more information.
ITD works closely with several federal agencies to meet federal regulations as well as to ensure federal funding is spent appropriately, to streamline project development, and to plan for future needs.
Some of the federal agencies ITD works with on a regular basis include:
Metropolitan Planning Organizations (MPOs) are entities designated by law with the lead responsibility for the development of a metropolitan area's transportation plans and to coordinate the transportation planning process. All urban areas of 50,000 populations or more are federally required to have an MPO if the agency spends federal funds on transportation improvements. MPOs were created to ensure that existing and future expenditures for transportation projects and programs were based on a continuing, cooperative and comprehensive (3-C) planning process.
Idaho has five MPOs throughout the state:
Local Highway Technical Assistance Council
The Local Highway Technical Assistance Council (LHTAC) connects Local Highway Jurisdictions in Idaho with available resources for maintenance and construction of Idaho's Local Highway System in the most efficient and effective manner possible.
Idaho Associations
Cities, counties and local highway jurisdictions have separate associations that represent hundreds of local governments. As part of ITD's ongoing outreach, we use these associations to target and inform community leaders of plans, programs, policies, and projects that may affect their community.
Other State Agencies
ITD works closely with its Idaho state counterparts, such as the Departments of Commerce, Labor, Fish and Game, and Lands. Each state agency is considered a subject matter expert, and we rely heavily on their expertise to help ITD develop plans, make better decisions and identify infrastructure needs.
Guidance
Guidance Materials
The following documents are considered critical for all Transportation Partners, internal and external – local or nation-wide, when determining whether any changes or adjustments are necessary for all routes on the National Highway System, State Highway System, Federal-Aid System, and/or classified within an Urban Boundary. As well as, information regarding Metropolitan Planning Organizations, or MPOs, specifically to funding availability and authorities; roles and responsibilities; and partnerships.
Communications
Standard Operating Procedures
Idaho Transportation Department (ITD) Systems Procedures

ITD's Systems Procedure's document outlines the concepts, definitions and characteristics of the National Highway System designation routes and functionally classified routes in the state of Idaho and the procedures followed to periodically review and adjust as needed; as well as, their relationship to Urban Boundary designations determined by the U.S. Census Bureau.

ITD State Highway System (SHS) Adjustment Procedures

ITD's SHS Adjustment Standard Operating Procedures (SOP) document providing step-by-step procedures and requirements to make adjustments to the State Highway System that serves statewide economic interests, movement of products and materials, and statewide mobility.

ITD/MPO Oversight and Coordination Plan – Coming Soon
Applications and Forms
The following documents are the necessary forms required for all proposed changes to the National Highway System, State Highway System, Federal-Aid System, Functional Classified Routes and Urbanized Boundaries.
Authoritative Maps
The following maps, both PDF and interactive-online-app, have gone through the appropriate approval process and updated accordingly.