Overview
---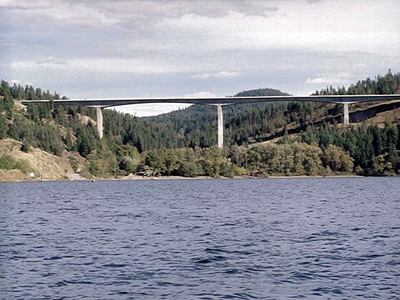 District 1 covers just more than 7,750 square miles of northern Idaho and maintains 1472 lane miles (lanes of road, on- and off-ramps, etc.) and 279 bridges.
Included in the five-county District 1 region is some of the most beautiful country in the Pacific Northwest, as the area is known for its recreational opportunities and for being a major commercial route to both entry ports into Canada. District 1 currently oversees more than 3.5 million vehicle miles traveled daily.
District headquarters is located in Kootenai County at 600 West Prairie Avenue in Coeur d'Alene, with Damon L. Allen as district engineer. Jim Coleman, of Hayden Lake, has represented District 1 on the Idaho Transportation Board since Feb. 2007.
---

Jim Coleman
Board Member
(208) 762-4704
Damon L. Allen
District Engineer
Email Damon
Construction List
News
Projects
New Revenue Projects
Construction Projects
Critical repair work was completed in December on the U.S. 95 Long Bridge in Sandpoint. Crews structured the work in a effort to allow two-way traffic and pedestrian access. This was an interim step until a large-scale maintenance project can be designed and constructed around 2018. The cost of this initial work was $2 million, while the full repairs are estimated at approximately $16 million.
This first-phase effort completed necessary repairs while also helping determine the magnitude of repairs needed for the second phase. Crews resealed the roadway bridge deck with epoxy to protect the surface against water and weather damage, replaced bearing pads and repaired patches on the bridge, along with preservation work on the piles and sealing joints on both structures.
The epoxy work was the best short term solution to seal the bridge deck to keep it from eroding. It is a rougher surface than regular repaving and is the best short term solution to keep the deck from coming apart. Also, to maintain two lines of traffic during construction, the epoxy was laid down in thirds versus each lane at a time. This left two seams in the roadway versus just one right down the middle. If it was sealed each lane at a time, ITD would have to close the bridge for long periods of time.
The work that was done will help ITD determine the best way to manage traffic flows during construction and determine the structural and deck work that needs to be done on the next phase. The project could start as soon as next spring and will have a strong economic impact on Bonner County.
Project Description
Location: Mullan, Idaho
Contractor: ACME Concrete Paving Inc.
Contract: $28.8 million
This project reconstructs 4.5 miles of concrete pavement on eastbound and westbound I-90 between Mullan, Idaho, and the Idaho/Montana State Line.
Work on the westbound lanes will be completed in 2015. During construction of the westbound lanes, traffic will be reduced to one lane in each direction and westbound traffic will be crossed over to the eastbound side of the interstate.
Work on the eastbound lanes will be completed in 2016. During construction of the eastbound lanes, traffic will again be reduced to one lane in each direction and eastbound traffic will be crossed over to the westbound side of the interstate.
In addition to the roadway reconstruction work, the following improvements will be made:
The stormwater drainage system will be upgraded to better remove water from the roadway.
All metal guardrail and concrete barrier will be replaced. The existing standard concrete barrier in the median will be replaced with tall median barrier.
All signs will be replaced.
The runaway truck ramps on WB I-90 will be upgraded.
Major erosion damage to the fill slopes off the roadway will be repaired.
---
Contacts
For more information, or to provide comment on the project, please contact:
Idaho Transportation Department
District 1 – Resident Engineer
John Perfect
(208) 772-1200
Planning
Public Comment Period goes until July 5, 2017
Contact: Carrie Ann Hewitt at CarrieAnn.Hewitt@itd.idaho.gov or 208-772-1230
Public Information Meeting Displays held on June 21, 2017
US-95 N Corridor Access Improvements Information
Coeur d'Alene Lake Drive Corridor Master Plan
Idaho Transportation Department (ITD) is in the process of evaluating the possibilities of transferring jurisdictional control of Coeur d'Alene Lake Drive (Sherman Ave. to Higgins Point, hereafter referred to as "the corridor") to a local entity or entities. ITD has been collaborating with several local entities including East Side Highway District (ESHD), Idaho Department of Parks and Recreation (IDPR), and the City of Coeur d'Alene (City) as potential receipts of jurisdictional control.
Coeur d'Alene (CDA) Lake Drive was designated US Route 10 in 1927 and operated as a highway until I-90 was completed in the early 1990s. Now CDA Lake Drive functions as a local road and ITD is interested in transferring CDA Lake Drive jurisdiction to a local government entity (or entities) to improve operations, maintenance, and management. ITD is organized and equipped to efficiently manage and maintain roads and highways with higher traffic volumes and needs to use its limited resources on these facilities. ITD decided to evaluate options for transferring jurisdiction to a local entity (or entities) because it is likely that a local entity (or entities) can operate the road at a higher level of maintenance and responsiveness at a lower cost and make better local decisions affecting the community.  ITD has a limited amount of funding to provide a one-time payment to a local entity (or entities) to take over jurisdiction.
ITD selected Welch Comer Engineers of Coeur d'Alene to complete a Master Plan of the roadway to determine its current condition, estimate future maintenance costs, and also evaluate opportunities for potential additional public uses and enhancements within the corridor. This information has been presented to the local entities for their consideration and was presented at a public meeting on May 5, 2016 in Coeur d'Alene.
ITD's objective with completing the evaluation is to objectively analyze CDA Lake Drive's current condition, needed repairs and on-going operation and maintenance needs.  This information can be used by local entities to evaluate accepting the CDA Lake Drive jurisdiction.
ITD is considering funding necessary road maintenance and improvements to reduce future maintenance costs for local entities that may take jurisdiction.  ITD's goal is for a local entity, that is best equipped to cost effectively manage and operate the corridor to the highest level of maintenance and can best serve the community's expectation of function and use of the road, to take over jurisdiction.  If local entities do not take over jurisdiction, ITD will only be able to provide a minimal level of maintenance necessary to keep the road safe.
---
Contacts
Those with questions about the project can contact Ben Ward at (208) 772-1285 or email Ben.Ward@itd.idaho.gov
Archive
ITD Public Hearing
Project Bidding Information
Contact Info
District 1 Phone Number: (208) 772-1200
District 1 Fax: (208) 772-1203
---

Office of Communication Contact: Reed Hollinshead, Phone: (208) 334-8881
Freight