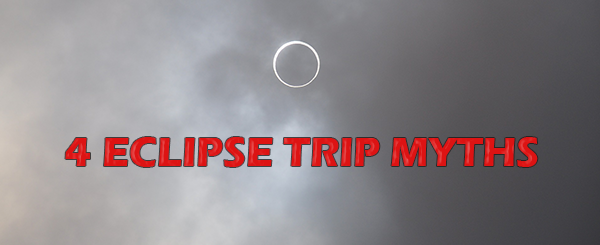 The August 21 solar eclipse has everyone talking. Unfortunately, some of those conversations are filled with made up assumptions, inaccuracies, or straight-up lies. So, in this age of alternative facts, here are four road myths surrounding the eclipse we want to clear up.
#1. The interstate will be turned into a one-way – FALSE
We've heard it from all over the state of Idaho: "The route in my backyard will be changed to go just one direction." This is absolutely false. This rumor is so untrue, the pants set on fire by those telling it runs the risk of burning down the entire state.
So, let's be very clear. Whatever the configuration of the road is today will be the configuration before, during, and after the eclipse. I-15 will remain a north- and southbound road; same for U.S. 95 –  and so on and so forth.
#2. Semi-trucks will not be allowed on the road – MOSTLY FALSE
Most commercial traffic will be allowed to travel during the eclipse – though we want to throw out there that traffic will likely be congested. There will be a restriction on very large loads.
The Division of Motor Vehicles is implementing a "holiday protocol" for those big rigs. Starting Sunday, Aug. 20th at 4 p.m. and ending at dawn Aug. 22 loads exceeding 10' wide, 100' long or 14'6" may not travel on Interstate or State highways south of Lewiston.
For questions, call the overlegal permits department at 208.334.8420 or email at permits@itd.idaho.gov
#3. All construction will be suspended during the eclipse – SOMEWHAT TRUE
Okay, construction is complicated. The window for crews to get into a place and do work that may take months to complete can be narrow. Where projects can be suspended to improve traffic flow and safety, we are doing that. For some projects, we can't – if we've only got one lane done on a bridge, we can't pull up and make a difference.
If it helps, we'll have flaggers out to help move people along. Please use extra caution and patience in active work zones.
#4. Traveling for the eclipse is like driving to work. I don't need to take extra steps – FALSE
Areas where the moon will completely block the sun – the "Path of Totality" – generally fall on pretty remote parts of Idaho. We're talking bad or no cell signal, sparse services like gas stations, and lots of big critters that can cross the road. Also, much of southern Idaho is a desert, full of dry grass just waiting to catch fire.
Plan ahead and make smart choices during your trip. Your GPS may not work in the mountains so bring a physical map (they still make those), extra food and water, and fill your tank full before you cross into the hinterlands. Also, make sure nothing is hanging low from your car or trailer. A dropped muffler can hit the road and spark, which is a great way to start a wildfire.
This total solar eclipse is a rare opportunity to see something amazing and we are excited so many people want to come to beautiful Idaho to see it. Help share these truths and bust those myths out there!