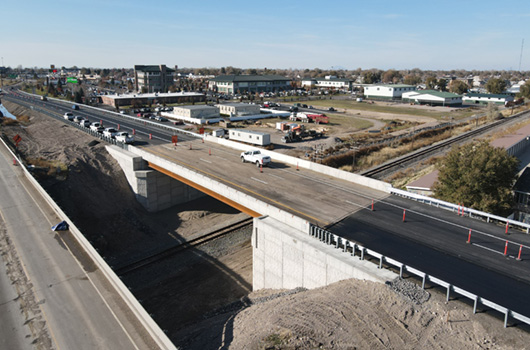 A new three-lane Interstate 86 bridge at Chubbuck is now open as construction crews head into Thanksgiving week. The new bridge over the Union Pacific Railroad adds capacity, improves traffic flow, and is designed to last 80 years.
While the bridge is complete and open, work continues nearby with the installation of a new sound wall. In addition, paneling will be installed on the bridge to protect the railroad tracks from any debris falling off the bridge.
Crews will continue to work on the I-86/I-15 System Interchange through the winter months. The next major milestone is opening the new I-15 mainline roadway slated for mid-December. Following that contractors will begin demolition of the old I-15 bridges.
This week crews will work until noon Wednesday and return to the construction site on Monday. Still, it is important that drivers be safe while travelling through the System Interchange, particularly with increased holiday traffic.
"Please pay attention to construction signs, be courteous, follow posted speed limits, and drive safe so everyone can go home safely, including workers on the project," Engineering Manager Aaron Baird said.