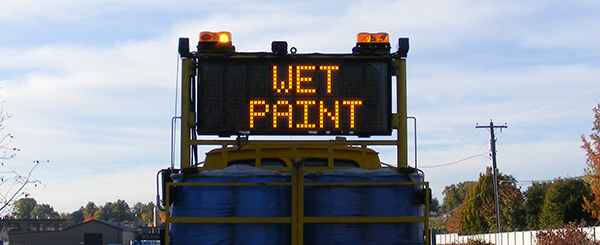 The last pockets of snow are melting off the Boise Foothills – the annual sign that Spring is in full swing in the Treasure Valley. As you begin to de-clutter your garage and spruce up your yard, the Idaho Transportation Department's Southwest Idaho office is out in force laying fresh paint on faded road stripes.
During these operations, ITD is asking motorists to use extra caution around the striping machines and the wet paint they are applying.
How the Process Works
Striping crews consist of four vehicles.
A lead vehicle to warn approaching vehicles of the wet paint ahead
A paint truck that applies the paint and reflective beads
A crash truck immediately behind the paint truck for protection and to warn motorists of the fresh paint on the road.
A trailing truck with a message board to warn motorists of the wet paint and the painting crew working ahead
When weather allows, striping crews will spend the Spring and Summer repainting all of the lane lines on the state highway system in southwest Idaho. The paint truck sprays two different materials almost simultaneously; the paint first and then retro-reflective beads. The combined materials help the lines remain visible under different conditions: daylight, nighttime, or rain.
Once applied, the paint cures quickly. In ideal conditions, it can be as soon as 30 seconds.
What to do if you drive on wet paint
Wet paint is considered a roadway hazard – similar to animals, debris, or potholes. It's the responsibility of all drivers to look out for these hazards and try to avoid them.
If you do find yourself driving through wet paint and some of it splashes on your car, you can take immediate action to remove it. ITD suggests two options:
Test a small, hidden part of your car first to ensure no side-effects to the paint or finish. Spray the painted areas with Pam cooking oil. Let it sit for a few minutes. Spray off with pressure washer.
Use a chemical solvent, such as Goof Off (latex). Test a small, hidden part of your car first to ensure no side-effects to the paint or finish. Spray and wipe off small sections at a time. After you wipe off each section wash that section immediately.