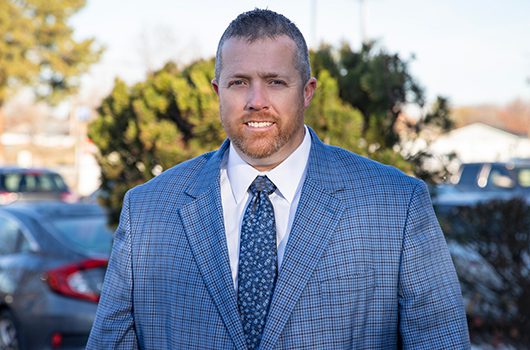 Jason Brinkman has been named the new District 3 Engineer by Director Stokes, rising to the top from among a strong group of candidates for the position. Brinkman has been part of the district management team as the Engineering Manager for Design & Construction since 2016. Previously he also served in statewide roles for the GARVEE bond program and Highways project delivery.  Brinkman replaces former District Engineer Caleb Lakey, who left ITD for the private sector in October.
Brinkman started with ITD in 2000 and spent his first few years in the department's Engineer-in-Training program.  He also has prior experience working for residential construction and utility companies, and his father's land surveying firm.  Brinkman has been a leader in project management, design, construction, maintenance and traffic operations, legal coordination, contract negotiations, large-scale program management, environmental, bridge delivery, and right of way solutions.  His over two decades with ITD have led to comprehensive understanding of agency governance, local partnerships, policies, district operations, customer service, and ITD strategic goals.
"With more than 25 years of experience, Jason Brinkman brings both field engineering and district management teamwork expertise on complex issues that will serve ITD employees and local partners well as District 3 Engineer," said ITD Chief Deputy/Chief Operations Officer Dan McElhinney. "We appreciate his leadership and commitment to safety, innovation, and helping make ITD a great place to work."
Brinkman, a native of Watertown, South Dakota, earned his Civil Engineering degree from North Dakota State University in 1999 and his Idaho Professional Engineer license in 2004. Jason lives in Boise with his wife Jill, also a professional engineer, and their two children.  When not practicing engineering, they enjoy rafting, hiking, biking, baseball/softball, and other outdoor pursuits.
Transportation excellence is a goal for Brinkman, who said of his new role, "I look forward to continuing to work with our many great partners and stakeholders as we maintain and improve our highways and bridges for all Idahoans.  We have exceptional District 3 employees, contractors, and consultants that it will be an honor to team with as district engineer to provide the safe and efficient transportation system we all rely on daily."