A project on U.S. Highway 95 in North Idaho was recently named the western regional winner of the America's Transportation Awards announced Tuesday (June 7). Sponsored by AASHTO, AAA, and the U.S. Chamber of Commerce, the America's Transportation Awards competition was created to showcase tremendous projects.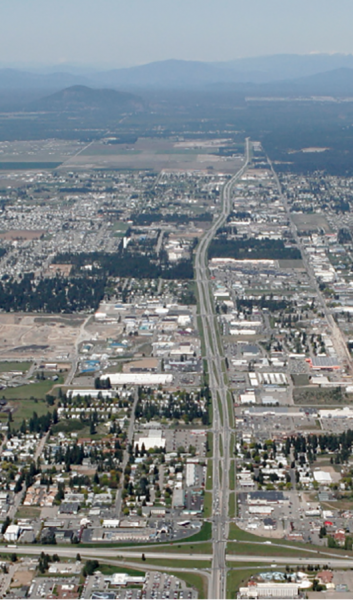 Work from 2019 through 2021 addressed skyrocketing growth in Coeur d'Alene and Hayden by adjusting signal spacing as well as access and capacity at intersections. Several intersections on US-95 lacked basic turn lanes to separate turning traffic from through traffic. To maximize mobility at these intersections – some of which were seeing 50,000 vehicles a day, nearly rivaling traffic counts on the interstate—ITD added eight turn lanes to six intersections.
"Adjusting the signals so that they were spaced one-half mile apart allows us to better manage traffic with what we already had and without building costly features like bypasses or interchanges," Project Manager Carrie Ann Hewitt said. "Once we update the signal technology this fall, we expect to see even more seconds saving traveling through the corridor. Seconds may not sound like much, but throughout the corridor they add up."
Other improvements included rebuilding the shared-use path to the east of the highway and placing noise walls near Carriage Court and Hayden Pines.
This project was also awarded the Excellence in Construction Partnering Award from the Idaho Transportation Department and Associated General Contractors of Idaho in December 2021. The high-priority project united many stakeholders in the area, bringing together the cities of Coeur d'Alene and Hayden, the Metropolitan Planning Organization, and the state in a shared goal of optimizing the congested US-95 corridor in the heart of the City of Coeur d'Alene and the City of Hayden. Changes were partially funded by a $5.1 million federal grant with match money from ITD and both cities.
As a regional winner, the project will be considered for inclusion into the competition's "Top 12," which will be announced Sept. 7. These 12 projects compete for two top prizes — the Grand Prize, chosen by an independent panel of judges, and the People's Choice Award, determined by the public through online voting. Both awards carry a $10,000 cash prize to support a transportation-related scholarship or charitable cause. The winning project will be announced at the AASHTO Annual Meeting in Orlando this October.