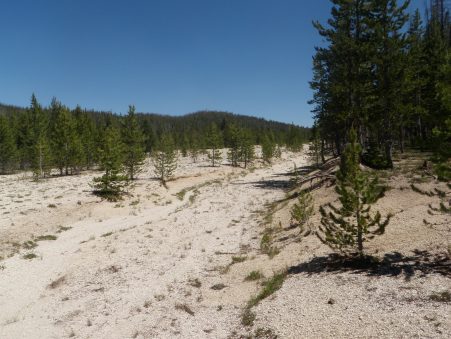 The Idaho Transportation Department's Division of Aeronautics (ITD) is seeking public comments as it considers restoring and managing a backcountry airstrip in the Salmon-Challis National Forest.
The Hoodoo Meadows airstrip (as shown in image above) is the highest in the state at an elevation of 8,200 feet, and provides access to the Frank Church – Wilderness of No Return. The airstrip is located just south of Yellowjacket Lake and near the popular Bighorn Crags area. It has not been used since the 1980s.
The site was managed by the U.S. Forest Service (USFS) after its construction in 1936 by the Civilian Conservation Corps, and traditionally used to gain recreational access for alpine lake fishing, wildlife viewing, and big game hunting. Although there were no reported accidents, in the early 1980s the airstrip was rated marginal for safety, and by 1989 trees had encroached the site and made it unusable.
In 2016, the Idaho Department of Fish and Game (IDFG) initiated the effort to restore the Hoodoo Meadows airstrip, due to repeated public inquiries about recreational accessibility. Together, USFS, IDFG, and ITD, with support from the Idaho Aviation Association and the Recreation Aviation Foundation, are working on an agreement that would open the site for air travel and provide for future maintenance.
"This effort has been underway for several years. Our role would be making the airstrip safe for pilots to land again, by clearing vegetation and installing safety features like runway markers," Aeronautics Administrator Jeff Marker said. "It would take about a month of initial cleanup work on our part, but would provide more access for those who wish to explore some of the most remote places in Idaho."
Visit itd.idaho.gov/aero to review the proposed partnership, then please provide ITD your feedback on the plan. Public comments will be accepted March 15 to March 29 through the following options:
Email jillian.garrigues@itd.idaho.gov
Record verbal testimony by calling (855) 785-2499
Send your written comments by mail to
ATTN: Jillian Garrigues
Idaho Transportation Department
PO Box 7129
Boise, ID 83707
The USFS sought comments in 2018 on reopening the Hoodoo Meadows airstrip. Now, the public can voice their support or concerns regarding ITD's involvement in the partnership.