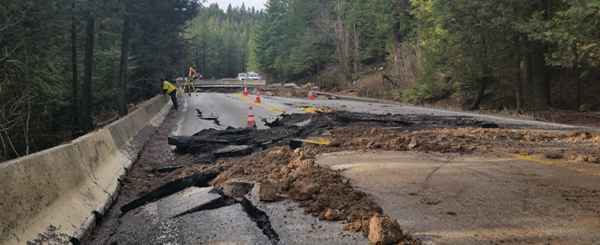 Shifting ground from a very wet spring has caused sections of State Highway 5 to heave and collapse.
ITD has completely shut down ID 5 between Parkside Rd. and Conklin Park Rd. A mud slide beneath the road has caused it to crack and sink. In some areas, the road is gone entirely. At this point in time, engineers fear the section of road may be a total loss.
Crews will start to do exploratory drilling Friday and into the weekend. This will help discover the extent of the slide and what repairs may be needed once shifting stops.
ITD first noticed significant damage last Monday. Initially, small 3-inch wide cracks formed on the road surface. By Tuesday those cracks were 8 inches wide and more than six feet deep. Since then the road has steadily deteriorated and continues to shift.
Motorists are advised to detour around the dangerous area. ID 3 and ID 6 are the best options. Local traffic has been using the state park road, but that is now restricted due to unstable ground. Local authorities are asking those roads be used only for local emergency traffic.