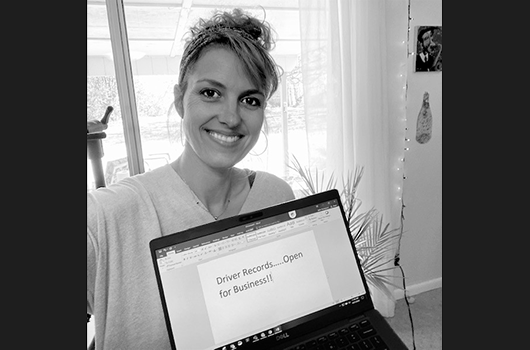 ---
UPDATE: Star Card deadline is now May 7, 2025
U.S. Department of Homeland Security notice for REAL ID
---
Originally published 4/29/2020

Idaho Transportation Department Division of Motor Vehicles employees continue to work hard from home to help Idaho drivers.
During this COVID-19 emergency, DMV Customer Contact Center employees are dedicated to keep assisting Idahoans with their DMV concerns while maintaining safe social distancing protocols. More than 160 people are working from home, answering phone calls related to all aspects of DMV operations. That includes driver's licenses, vehicle registration and titles, motor carrier registration and permits, and vehicle dealer support. These DMV employees are taking more than 1,000 calls a day from the public, and more than 800 a day from county DMV offices across the state.
"We are living in a time of unprecedented uncertainty. It's crucial that when the public, counties, or law enforcement of Idaho needs us with questions or assistance we are there on the other end of the call," said Beth Thompson, Driver Records Program Supervisor. "Behind the scenes, ITD DMV is doing almost the entirety of the work from home. Whether it be a simple change of address or a complex issue regarding a driver's license and suspension."
They're also helping process license and registration renewals by mail, over the phone, and online. As Idaho prepares to reopen for business, county DMV offices are adjusting hours of operation and services. ITD encourages drivers to use the online customer portal at itd.idaho.gov/driveidaho to reduce crowds and keep wait times down.
More Idahoans than ever are now using the DMV's expanded online services. Online vehicle registrations grew from 16,000 in February to 31,000 in March, and are expected to reach over 40,000 in April. Online driver's license and ID renewals increased from 900 in February to 2,400 in March, with 7,000 estimated in April.
Online DMV services at itd.idaho.gov/driveidaho include:
Driver's license renewal (not for first-time Star Card)
Acquiring a replacement driver's license or identification card
Paying driver's license reinstatement fees
Purchasing a driving record
Vehicle registration renewal
Ordering personalized license plates
Checking status of vehicle plates and titles
Commercial vehicle oversize/overweight permits
Commercial vehicle registrations
The DMV has issued a 90-day extension on some credentials expiring between March 1 and May 31, 2020. This includes driver's licenses and vehicle registrations that can be renewed online. Those expiring between March 1 and May 31 now have until June 30, 2020 to renew.
The U.S. Department of Homeland Security has also extended the REAL ID enforcement deadline one year, to October 1, 2021. This gives Idahoans an additional year to get the Star Card, Idaho's REAL ID.
DMV office hours and services are determined by county sheriffs and assessors and vary statewide. Please contact your county office before you make the trip, and remember you can always call ITD's DMV Customer Contact Center at 208.334.8000. Employees will be happy to help you even as they work from home.
"I couldn't be more proud of my Driver Records team for weathering this storm like champions. They have handled it with integrity and grace and continue to give the very best customer service," Thompson said.
For more information and resources visit itd.idaho.gov/driveidaho.