Idaho 511 is a valuable resource for travelers all year long, and now our newest version of the website has officially launched! Take some time to get familiar with the layout and check out the features.
Head to 511.idaho.gov to try out the latest Idaho 511. Your favorite features from our "Full Featured" website are all still there, including the cameras, road reports, traffic speeds, and more. However, now you will find them listed in the layers menu on the right side of your screen. Check the boxes next to your preferred map icons to turn them on, and uncheck the boxes to turn map icons off.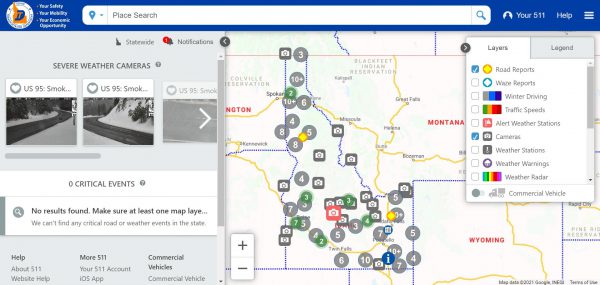 New map layers include Waze Reports, which are citizen road reports from Waze App users, as well as a variety of weather related options. Putting a checkmark in the Weather Radar box for example, will show you where precipitation is falling across the state.
On the left side of your screen (or below on a phone or tablet) severe weather cameras and critical events, road closures, or blockages are displayed as they are happening. These give you an instant look at current situations statewide that may have direct impact on your travel.
With a Your 511 personalized account, you can also choose to save your favorite cameras now, in addition to your favorite routes and places. And when zoomed out on the map, multiple cameras or events in one specific area will group together to display in a "cluster." This grey or green circle shows the number of cameras or events. Simply click on the circle and the map will automatically zoom in to that area.
"We are excited to update our technology and still give travelers the user friendly Idaho 511 they are used to," said ITD Travel Services Coordinator Tony Ernest. "Since late 2019, we've asked 511 users to test the new site and provide feedback. This input has helped our development team immensely in making sure drivers have easy access to the resources they need."
Commercial truck drivers will no longer need a separate version of Idaho 511. The improved Idaho 511 features a Commercial Vehicle tab that selects appropriate trucking related map layers like Restrictions, Truck Ramp locations, and Weigh Stations.
Our "Streamlined" low bandwidth version of Idaho 511 will stick around for a little while longer, but get ready for that page to retire in late spring. Start using the new Idaho 511 now so you're prepared!