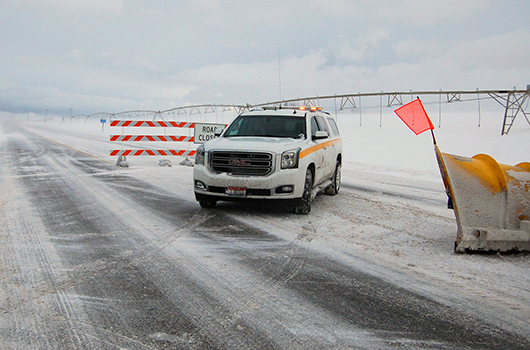 You planned a fun ski trip for the last 3 months across the other side of the state. You get ready to head out the door and check the weather for your route. You're expecting snow but as of right now roads look fine. You have a 5 plus hour drive to get to the ski resort if all goes well. It's 4 pm on a Thursday and you start your journey east to the mountains, if all goes well you'll be there by 9 pm. A few hours into your drive the weather takes a little turn, the snow is coming down a little heavier, temperatures start to drop and the wind is now beginning to blow pretty hard. You start driving a little slower and about 70 miles from the ski resort your travels have now become white knuckle driving.
Only 55 miles left to go, you are a little edgy and just want to get to the resort and off the icy roads. You start on one of the local highways headed East to the mountain and about 45 minutes from the resort you drive up to a road closure on the highway. Saying some choice words at this point and thinking you can make it because you're so close you stop behind a semi waiting the storm out at the block. You step out and realize its dang cold and windy, so you get back in your car and bundle up to stay warm. You get back out of your car and walk up to the gentleman sitting at the road block.
Dying to drive past the road block and get to the resort you ask him the infamous question…why is the road closed? The man tells him it is very low visibility, the 5 foot snow drifts are completely across the road and the crews cannot keep up with them as the wind is already at 45 mph. A little upset, you now follow-up with another question…when will the road be open? Can I just drive through, I'm sure I can make it?!
Of course the answer will always change as to when a road will be open as that is completely on a situational basis but the man tells you it will be open as soon as the weather cooperates and they can break though so maybe tomorrow night. He also proceeds to say that you cannot drive through the road block. Quite upset at this point because this totally messed up your weekend ski trip, you turn around and decide to stay in a hotel nearby to wait out the storm in hopes the road will open soon. Instead of driving passed the road block you make a wise choice to wait it out.
Has this scenario ever happened to you before where you drove up to a road closure due to the weather? If you live in Idaho, it most likely has happened to quite a few of you. It's frustrating, it's inconvenient and trust us when we say we totally understand!
Many travelers wonder why we close roads during the winter weather season…There's many reasons actually! In severe weather road conditions our number 1 reason is low-visibility. ITD crews make numerous passes on our roadways and if they cannot see well they determine it is unsafe for motorists. Secondly, if the wind is blowing too hard then the snow drifts become uncontrollable. Once the snow drifts become unmanageable and the crews cannot keep up with them, this is also an indicator to close a road.  Some other reasons would be severe black ice on the roadways and heavy snowfall that is impassable. Also, in the mountain passes typically the road might be closed due to avalanches.
When crews close a road, it is closed for a good reason…to keep motorists safe! ITD and ISP do not like to close roads due to the weather, we would prefer keep roads open to keep traffic flowing but that is not the case all of the time. Here's some food for thought…when coming up to a road block and you get the urge to drive past it and continue on know that per Idaho Code 19-623 it is up to a $300 fine, a possible misdemeanor and possible imprisonment in county jail.
So when you drive up to a road block next time, we recommend to simply turn back and stay in a safe place until the road becomes open again. Our #1 goal is safety for the travelling public and ourselves!
Roads will only close for you and your family's safety and we want to create the safest travel possible. Be sure to drive for the conditions, plan ahead, be prepared, stay engaged, and visit 511.idaho.gov before you go for current road updates. Dont forget to check out ITD's road closure video!