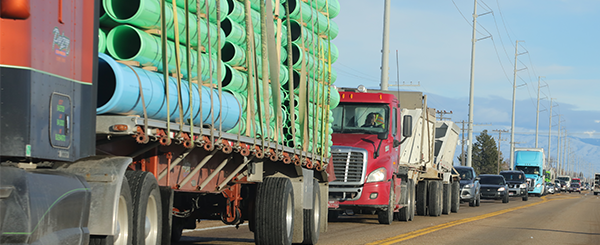 Memorial Day weekend is nearly upon us, and ITD is issuing the follow travel advisory to inform those planning to drive from the Boise area of conditions on and along the area highways.
Construction Impacts
Interstate 84
There are two projects active on I-84 to the east and west of the Boise area.
Bridge rehabilitation on the bridge over Purple Sage Road west of Caldwell has reduced the Interstate to a single lane in each direction. Speed limits are reduced and motorists should anticipate delays.
Pavement rehabilitation and construction of a third westbound lane are active east of Mountain Home. Motorists will be channeled into a single lane and speed limits are reduced.
U.S. 95
There are two construction projects that will have active impacts over the weekend. Both are bridge replacements that currently have only one travel lane. The first project is located approx. 10 miles north of Council. The second is the Little Rainbow Bridge, approx. 13 miles north of New Meadows. Both construction zones are controlled by temporary signals. Motorists should anticipate delays on this route.
Idaho Highway 55
One active project on ID-55 is the repavement of the highway south of Smiths Ferry. Work will be suspended starting Friday, May 24 and not resume until Tuesday, May 28. Motorists should use caution in the area and obey traffic signs. There will be uneven surfaces as the project remains partially constructed.
Another project on ID-55 in Canyon County is the bridge and road reconstruction in Marsing. Construction impacts will remain active over the weekend. Travel will be reduced to one lane in each direction. Motorists should expect delays in the area.
Travel Conditions
Prolonged rainfall and cooler temperatures mean the mountains are saturated. This increases the risk of rockfall and mudslides. Motorists should be aware of the possibility of hazards on the road and drive with caution. Remember to remove distractions and Drive Well, focusing on the important task of engaged driving.
Congestion is common on these mountain highways during summer holidays. In particular, the intersection of ID-55 and Banks-Lowman Road sees heavy traffic. To mitigate this increase, ITD will flag this intersection on Memorial Day, the Fourth of July, and Labor Day.
ITD is encouraging vehicles traveling from the Sun Valley region to the Boise area consider alternate routes or travel outside the busiest times (noon to early evening) to avoid delays at the intersection of ID-55 and Banks-Lowman Rd.
Be sure to check 511 before leaving to see the latest road conditions and impacts. You can call, visit the website, or download the app for Apple or Android devices.