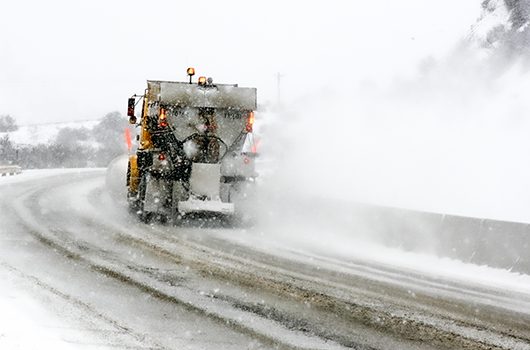 It's a cold, windy, snowy night driving on the interstate. You're in a hurry to get home from a long day at work, but you can't see very well in the snowstorm. Cruising along, you drive up on some flashing lights and realize it's a snowplow ahead.
As you get closer to the plow, you think, "What should I do? Should I pass, or do I stay behind the plow?" When encountering a snowplow, we have a few safety tips to take into consideration.
First things first, please slow down. When you approach a snowplow, the driver may not be able to see you. Snowplows have many blind spots, and when the plow is in use, they have even more limited visibility. Drivers hit many plow trucks each year, which endangers the drivers of both vehicles and other motorists in the area. Leaving more space between the plow and your vehicle gives the plow driver and you more time to react should you hit ice or another problem. Driving too close behind the plow can also expose your vehicle to de-icing materials. When approaching a plow, slow down and be aware of your surroundings.
In heavy snowfall and icy road conditions, the safest place to drive is behind a snowplow at a safe distance. Too often, drivers pass the plow and end up driving at a slower speed than the plow itself, in turn, slowing everyone down.
Passing at elevated speeds on icy road conditions is risky. If you should pass a plow, do not pass on the right. There is a wing plow that is on the right side of the vehicle, extends up to 10′, and is typically masked by a snow plume that it creates when clearing the roadway of snow. Don't pass on a corner, in an area with blocked views, or on an icy stretch that you are uncomfortable passing on; this makes a safer environment for you and surrounding motorists.
If you see a snowplow driving towards you from the opposite direction, be courteous. Again, please slow down and drive on the right side of your lane to give the snowplow enough room to do its job. Many state highways are narrow, so snowplows take up a little more space on the single lane as they need to plow the center line.
Let's remember, plow drivers are working to make the road safer for everyone to drive. Using caution when driving around a plow can save someone from having a bad day, or even save a life. Snowplow drivers are our friends and neighbors; they have families too and want to end each shift safely. They drive in the most treacherous storms to keep roads open and as safe as possible for all of us. Please show them respect, give them the space they need to work, be attentive, and, most of all, drive safe. We want you and our plow drivers to get home safely every day!