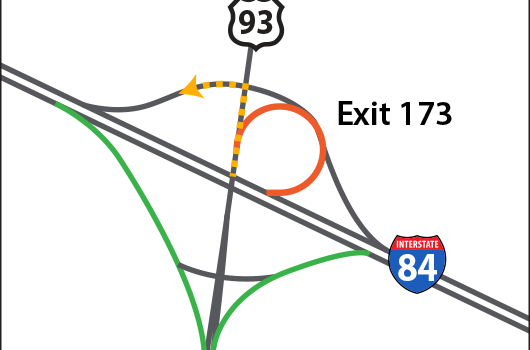 UPDATE: Daytime and nighttime ramp closure on the I-84 Westbound ramp Aug. 29 – Sept. 11. Daytime ramp closure affords construction crews the ability to expedite ramp paving. Project remains on schedule to be completed mid-October.
TWIN FALLS – The Idaho Transportation Department (ITD) begins construction on the I-84 and US-93 interchange on and off-ramps at Exit 173 in August 2023 which is expected to last approximately two months. Located just north of Twin Falls, the project will resurface the ramps, upgrade signals, and construct a right turn lane for the westbound I-84 off-ramp.
The public can expect the following traffic impacts:
Lane reductions in place at the on and off-ramps south of I-84.
Temporary closures will occur at the on and off-ramps 8 p.m. – 5 a.m.
Motorists will drive on a gravel surface during the day on the westbound on and off-ramps.
Construction will be staggered and no more than one ramp will be closed at a time.
Each ramp closure is expected to last for approximately eight nights.
Motorists will need to use alternate routes when closures are in place.
Signs and possibly flaggers or a temporary signal will be in place to direct traffic.
Download map for alternate route descriptions at https://itd.idaho.gov/wp-content/uploads/2023/07/I84-US93-IC-RampClosures-1.pdf.
Travelers are reminded to check 511.idaho.gov for impacts to traffic from construction.