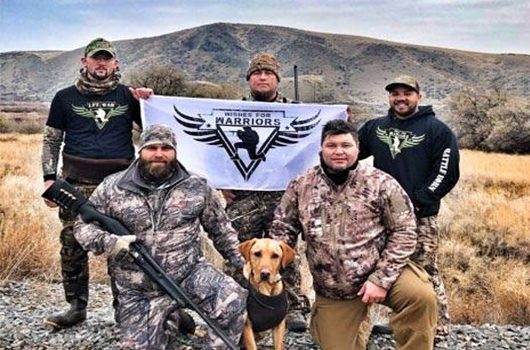 With so much time spent within the walls of our respective trucks, sheds, cubicles and offices, it's easy to forget that each and every ITD employee lives a life outside of the department. Some may appear to be more colorful than others, more peppered with joy or riddled with strife, but each one has a story to tell should he or she be willing to share.
Let's take a look this week at Brent Brumfield, a GIS Analyst who joined District 4 of ITD just over a year ago, in December of 2017. Brumfield spends a lot of his time outside of work giving back to those who have given so much to this country.
Originally from Calistoga, California, Brent moved to south-central Idaho via Billings, Montana, where he majored in Environmental Management and Policy at Rocky Mountain College. During his last semester of college, he accepted an offer from AECOM to handle oil and gas remediation, thus kick-starting his professional career.
But his story begins long before Brent accepted his first GIS job offer. In fact, it begins before he even went to college. As a young man of 20 years, he made the decision to join the United States Marine Corps. This story starts there.
"I was really looking for something to change my course in life and I thought that the Marine Corps might be good way to do that," Brent explained. "I was very close with my grandfather growing up, and he had served as a Marine during WWII. The time he spent serving his country instilled a great amount of pride in my grandfather, and that remained a defining part of his character for the entirety of his life."
Although Brent knew he was ready for a change in life, he admits he "had no idea what I was getting into."
"I went from working as a store clerk and in construction jobs, to driving a 26-ton 'water tank' carrying 21 Marines (fully loaded) from ship to shore to established beachheads."
Brent served eight years in the Marines as an Amphibious Assault Vehicle Crewman. He deployed to Iraq once in 2006 and again in 2007 (as part of the 22nd MEU), got married, and even had a son while serving his country. He was stationed at Camp Lejeune in North Carolina and also at Camp Pendleton in California.
After his tenure in the Marine Corps, Brent moved his family to Montana in order to pursue his education. His time in the service was never far from his mind, however, and Brent soon discovered there were other ways he could continue to serve his fellow veterans.
"I got involved with Wishes for Warriors when a friend of mine reached out and asked if I would help organize a waterfowl hunt," said Brumfield. "I had actually participated in one with Wounded Warrior Battalion back when I was stationed at Camp Pendleton, and that experience had a profound and lasting impression on me."
Brent believes that giving back to others who have been less fortunate during their time of service is crucial in the road to healing.
"During the time of my grandfather, everyone served in the military, so there were people these men and women could talk to and relate with upon their return from war. That changed after Vietnam," Brent stated "when suddenly service members returned from duty and felt as though they had to keep their military service and experiences bottled up inside."
"That's a big part of why I do what I do. Often times it's less about hunting and more about being that person willing to lend an ear to someone who simply needs to talk about what they went through then, and what they are going through now."
Brent, along with Wishes for Warriors, feels that outdoor activities are a great way for veterans to bond – particularly when they happen to be facing some struggles either on an internal or external level.
"It's always great to see these guys who are down, and within the first day of hunting, there's a personality shift and their overall outlook is like night and day. Suddenly, they are talking and smiling, and you can see that both a physical and mental change has occurred."
So what's on the radar next for Brent? Well, he's currently working with Wishes for Warriors to organize a fishing trip for salmon and steelhead. "We're hoping to get out on the water sometime in the next few months," Brent said. "Hopefully the fish will be biting that day."
If you would like more information on the Wishes for Warriors organization, or to see how to participate, visit www.wishesforwarriorscorp.org.