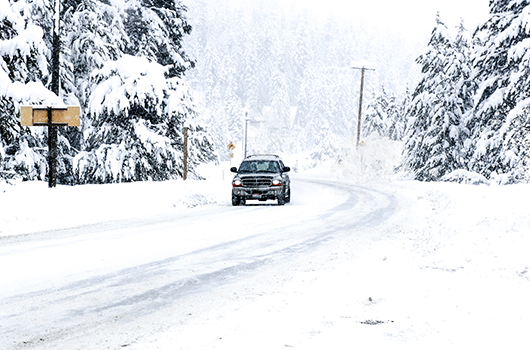 When it comes to winter driving, safety is always the message we try to stress. Of course, it's easy to tell people to slow down, stay engaged, and drive safely. Unless you've been personally affected by the consequences of speeding and winter weather, the seriousness of the message may not resonate.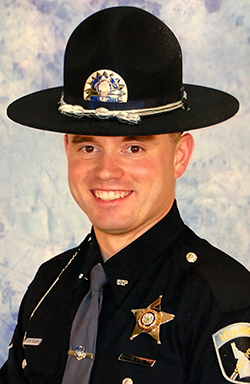 With this in mind, I decided to sit down with our south-central Idaho Law Enforcement Liaison, Scott Bolen. Corporal Bolen has served with Idaho State Police for five years. He's seen a lot of incidents on Idaho roads during his tenure with ISP. Corporal Bolen offered some insight and advice to benefit all motorists navigating Idaho roads this season.

Q: How do you feel about driving in the snow?
When there is snow on the roadway, it becomes more challenging to drive. Often, snow is just one aspect of multiple challenges a driver faces in winter weather. For example, when we look outside today, not only do we find snowy conditions, but that snow combines with dense fog, which further decreases visibility for a motorist. It's not impossible to drive in these conditions. However, if you decide to get behind the wheel, you need to decide to drive safely – slow down, increase your stopping distance, and drive for the conditions. 

Q: What are some winter driving incidents you have encountered that have left a lasting impression?
Unfortunately, I encounter many incidents that leave lasting impressions. A few years ago, it was a particularly bad winter. There were a lot of slide-offs that season, and I remember responding to an incident on the interstate where a passenger vehicle had slid off into the median. Visibility was very low that day, and that, combined with the high speed of traveling motorists, made the side of the roadway a frightening place to be. Multiple vehicles, including a semi-truck, came within a breath of hitting my patrol car while I worked to assist the vehicle in distress.  
Another incident occurred where a semi-trailer came over a hill and hit a patch of ice, causing it to jackknife on the highway. I arrived on the scene to find the driver standing outside in the freezing weather. He was terrified that another vehicle was going to come upon him too quickly, not be able to stop and collide with his trailer. Both of these situations could have improved if motorists slowed down, paid attention to their surroundings, and drove for the conditions. 

Q: How many incidents do you feel could have been avoided?
A lot. I cannot even begin to count how many slide-offs and rollovers to which I've responded. Many crashes were avoidable if drivers would have taken their cruise control off in slick weather and slowed down. It's sad to say, but a vast majority of people are impatient. They don't realize that taking a few extra minutes to get somewhere could make a difference in not getting there at all. 

Q: We remind people to plan ahead when they travel and encourage them to pack emergency winter kits in their cars. What other tips would you recommend for motorists this season?
I think it's important to remind people to check the weather before they get on the roadway so that they can plan their commute accordingly. The live camera feeds and road updates on 511.idaho.gov are an excellent resource for people to utilize. If individuals are traveling, they need to tell people what route they are taking and what time they expect to arrive at their destination. This planning will help out greatly in the unfortunate event that you get lost or stranded during travel. 

Q: If you could get all drivers to make one change in their behavior, what would it be and why?
The things I've seen in my career have made me think and drive differently. Telling people to slow down and be patient is something I cannot stress enough. So many of our winter crashes occur because motorists want to keep going as fast as the posted speed limit allows. Those speeds are set for ideal driving conditions. While you may be able to drive 65 or 80 mph on slick roads, that doesn't mean you will be able to maintain control of your vehicle or stop. Slowing down and increasing your stopping distance gives you more time to react if something goes wrong.

Q: Anything else you want to add?
Just that we are here to serve the people and help keep our roadways safe. In emergencies, you should always call 9-1-1. If there is a non-emergency, for example, you slide off the road or even suspect a DUI vehicle, call our dispatch center at *ISP (*- 4-7-7), and we will head out to help.