Overview
---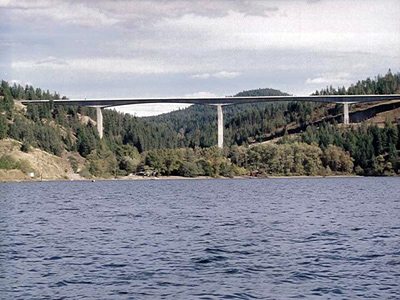 District 1 covers just more than 7,750 square miles of northern Idaho and maintains 1472 lane miles (lanes of road, on- and off-ramps, etc.) and 279 bridges.
Included in the five-county District 1 region is some of the most beautiful country in the Pacific Northwest, as the area is known for its recreational opportunities and for being a major commercial route to both entry ports into Canada. District 1 currently oversees more than 3.5 million vehicle miles traveled daily.
District headquarters is in Coeur d'Alene located in Kootenai County, with Damon L. Allen as district engineer. Jim Thompson, of Sandpoint, represents District 1 on the Idaho Transportation Board.
---
District 1 Contact Information

Jim Thompson
Board Member
208-597-4335

Damon L. Allen
District Engineer
Email Damon
News
Projects
Highway Construction in North-Central Idaho
For ITD construction projects & map locations go to: itdprojects.org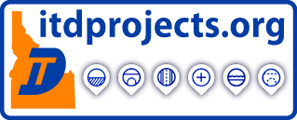 ---
For current construction & traffic conditions go to: 511.idaho.gov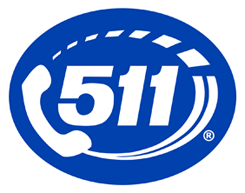 ---
For more information about projects in planning or design phases go to: itdprojects.org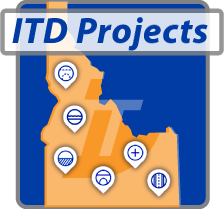 ---
Learn more about transportation in Idaho by listening to the: Drive Idaho Podcast

---
Services | Contacts
For application forms go to ITD Form Finder and then search for "Encroachment"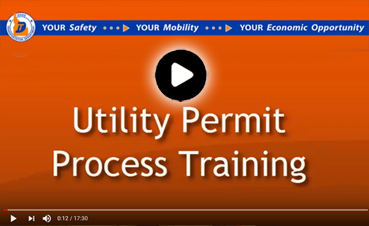 Encroachment Application Office Locations & Contacts
Regional Location
Office Hours
Email
Counties & Contact Information
North Idaho - District 1
600 West Prairie Avenue
Coeur d'Alene, ID 83815
7:00 a.m. to 4:00 p.m. Pacific Time
Email: Stacy.Simkins@itd.idaho.gov
Counties: Benewah, Bonner, Boundary, Kootenai, Shoshone - Stacy Simkins, 208-772-1297
North-Central Idaho - District 2
2600 Frontage Rd
Lewiston, ID 83501
7:00 a.m. to 4:00 p.m. Pacific Time
Email: Shane.Niemela@itd.idaho.gov
Counties: Clearwater, Idaho, Latah, Lewis, Nez Perce - Shane Niemela, 208-799-4239
Southwest Idaho - District 3
8150 Chinden Boulevard
Boise, ID 83714
8:00 a.m. to 5:00 p.m. Mountain Time
Payments are not accepted after 3:00 p.m.
Payment Phone Line:
208-334-8300, Ext. 2
Email: ITDD3Permits@itd.idaho.gov
Counties: Ada, Adams, Boise, Canyon, Elmore, Gem, Owyhee, Payette, Washington, Valley
Shona Tonkin, 208-334-8341


---

Josh Nopens, 208-332-7190
South-Central Idaho - District 4
216 South Date Street
Shoshone, ID 83352
8:00 a.m to 5:00 pm Mountain Time
Email: Deb.Pierson@itd.idaho.gov
Counties: Blaine, Camas, Cassia, Gooding, Jerome, Lincoln, Minidoka, Twin Falls - Deb Pierson, 208-886-7839
Southeast Idaho - District 5
5151 S. 5th Ave
Pocatello, ID 83204-2202
8:00 a.m to 5:00 pm Mountain Time
Email: D5EncroachmentPermits@itd.idaho.gov
Counties: Bannock, Bear Lake, Bingham, Caribou, Franklin, Oneida, Power - Phone: 208-239-3300
East Idaho - District 6
206 North Yellowstone
Rigby, ID 83442
8:00 a.m to 5:00 pm Mountain Time
Email: Anthony.Black@itd.idaho.gov
Counties: Bonneville, Butte, Clark, Custer, Fremont, Jefferson, Lemhi, Teton, Madison - Tony Black, 208-745-5625
Idaho Transportation Department Headquarters - Boise, ID
Utility Permits
Email: Barbara.Waite@itd.idaho.gov

Sign Permits
Email: Justin.Pond@itd.idaho.gov
Barbara Waite, 208-334-8522


Justin Pond, 208-334-8832
Roadway Sign Request Contacts
For all Idaho Route Maps go to the ITRPS website at:
Then click "Helpful Links" in the top left corner of the banner to access maps & attachments for the following:
Idaho Maps for Approved Routes Up to 129,000 lbs. (129K)
129K State Route Maps (by District/Region)
County Maps for Special Permit & Requirements
Vertical Clearance Maps | Pilot/Escort Requirements
Route Capacity Maps
Route Capacity Maps (by Color)
Idaho Transportation Department, District 1 Office
Address: 600 West Prairie Avenue, Coeur d'Alene, ID 83815-8764
---
District 1 Phone Number: 208-772-1200
District 1 Fax: 208-772-1203
District 1 DMV Contact Information with direction
---
Media Contact: Megan Jahns | Phone: 208-772-1295
Accessibility | Title VI | Americans with Disabilities Act (ADA) Compliance
The Idaho Transportation Department (ITD) is committed to compliance with Title VI of the Civil Rights Act of 1964 and all related regulations and directives. ITD assures that no person shall on the grounds of race, color, national origin, gender, age, or disability be excluded from participation in, be denied the benefits of, or be otherwise subjected to discrimination under any ITD service, program, or activity. The department also assures that every effort will be made to prevent discrimination through the impacts of its programs, policies, and activities on minority and low-income populations. In addition, the department will take reasonable steps to provide meaningful access to services for persons with Limited English Proficiency.
TTY/TDD Users: Dial 711 or (800) 377-3529 to use Idaho Relay System