Overview
---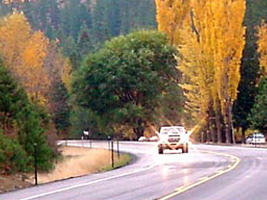 District 2 covers just over 13,000 square miles of north-central Idaho and maintains 1,500 lane miles (lanes of road, on- and off-ramps, etc.) and 180 bridges.District 2 encompasses five counties, with diverse geology highlighted by the pristine Clearwater River, one of the most scenic rivers in the United States. It has robust populations of fish and wildlife, and is rich in history. The Middle Fork of the Clearwater River was one of the first rivers designated under the U.S. Wild and Scenic Rivers Act.
District headquarters is at 2600 Frontage Road in Lewiston, where Dave Kuisti is district (head) engineer. Jan Vassar, of Lewiston, has represented District 2 on the Idaho Transportation Board since Jan. 2010.
---
District 2 Phone:
(208) 799-5090
District 2 Fax:
(208) 799-4301
Office of Communication Contact:
Megan Sausser
(208) 772-1295

Jan Vassar
Board Member
(208) 743-5093

Dave Kuisti
District Engineer
Email Dave
Construction List
2018 Highway Construction in North-Central Idaho
Go to 511.idaho.gov for the latest construction and traffic details.
News
Projects
New Revenue Projects
Report
Completed Projects
North-Central Idaho: Construction Completed in 2017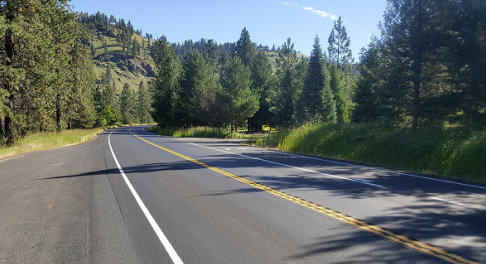 COMPLETE: US-12, Arrow Bridge to Big Canyon Creek
ITD contractor Knife River Corporation replaced 20 miles of asphalt on US-12 between Lewiston and Orofino. The project was completed between April and June 2017 for $5.3 million.
COMPLETE: US-12/US-95, Lewiston to Spalding
To enhance the safety of the highway, ITD contractor Knife River Corporation resurfaced 12 miles of US-12/US-95 from Lewiston to Spalding between May and August 2017. The highway was resurfaced by recycling the existing base of the highway and combining it with cement. Although the project was bid at $9 million, ITD took advantage of low prices and advanced another project. The advanced project, which would have added another layer to the roadway seven years after the initial work was completed, increased the total cost of the highway work to $10.5 million.
COMPLETE: US-95 and ID-8, Moscow Pavement Repairs
ITD contractor Poe Asphalt Paving Inc. replaced pavement along stretches of US-95 and ID-8 through Moscow. A rough winter in 2016 prompted ITD and the city of Moscow to complete the repairs one year earlier than anticipated. During construction, bicycle and pedestrian facilities were also improved. Work was completed between May and October 2017 for $3.9 million.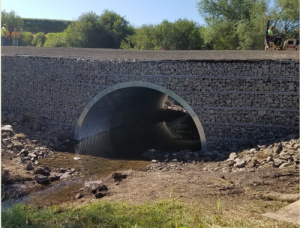 COMPLETE: ID-62, Holes Creek
ITD contractor Crea Construction replaced the culvert at Holes Creek with a bottomless arch pipe in July 2017 for $422,000. The bottomless arch pipe will help fish travel upstream.
---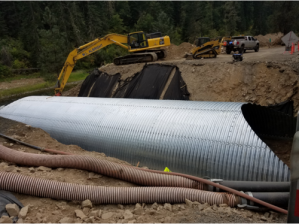 COMPLETE: ID-14, Peasley Creek Fish Passage Project
For $465,000, ITD contractor M.L. Albright & Sons Inc. replaced the culvert at Peasley Creek with a bottomless arch pipe. The new bottomless arch pipe will allow fish to travel upstream.
Contacts | Services
District 2 Phone: (208) 799-5090
District 2 Fax: (208) 799-4301
---
Idaho Transportation Department – District 2 Office
Mail Address:
P.O. Box 837, Lewiston, ID 83501
Location:
2600 Frontage Rd, Lewiston, ID 83501
---
Media Contact: Megan Sausser, Phone: (208) 772-1295

Accessibility | Title VI | Americans with Disabilities Act (ADA) Compliance
The Idaho Transportation Department (ITD) is committed to compliance with Title VI of the Civil Rights Act of 1964 and all related regulations and directives. ITD assures that no person shall on the grounds of race, color, national origin, gender, age, or disability be excluded from participation in, be denied the benefits of, or be otherwise subjected to discrimination under any ITD service, program, or activity. The department also assures that every effort will be made to prevent discrimination through the impacts of its programs, policies, and activities on minority and low-income populations. In addition, the department will take reasonable steps to provide meaningful access to services for persons with Limited English Proficiency.
TTY/TDD Users: Dial 711 or (800) 377-3529 to use Idaho Relay System