Overview
January 6, 2020: Newly updated ITD-654 Form and Instructions
---
Quick Reference for Tabs (above)
TCEC
Transportation Committee for Environmental Consistency (TCEC)
Forum for environmental personnel from ITD, FHWA and the consulting community regarding transportation, environmental, procedural, and technical subjects
The TCEC group will host an informational coffee with predetermined discussion topics (as listed in the schedule below). These meetings will foster communication between ITD environmental staff and consultants working on (or potentially working on) ITD projects. It is a way for the environmental professionals at ITD, Federal Highway Administration (FHWA), Ada County Highway District, Local Highway Technical Assistance Council, Army Corps of Engineers, and other partnering agencies to give updates on policies, regulations, processes, issues, statutes, work plans, etc.
Participants should bring discussion items related to the topic. Coffee and snacks will be supplied by presenters.
Dates: 4th Thursday of every other month
2020 Dates: January 23, March 26, May 28, July 23, September 24, December 3
Meeting Time: 8:30 – 10:30 a.m.
Date
Topics
Location
Additional Information
July 23, 2020
ITD/SHPO Disagreement Regarding Project Effects to Historic Highway & Favorable ACHP Comment
The Federal Highway Administration (FHWA) Idaho Division Office and the Idaho Transportation Department requested to the Advisory Council on Historic Preservation (ACHP) to provide resolution of a dispute with the Idaho State Historic Preservation Office (Idaho SHPO) of the "Determination of Effect" finding for the construction of two additional lanes along a segment of United States Highway 93. Proposed project actions would create a four-lane roadway, divided by a median for 2.255 miles in Jerome County, Idaho. FHWA Idaho Division Office and ITD issued a "Determination of Effect" that project actions would constitute a "No Adverse Effect." Idaho SHPO disagreed with the determination and had recommended an "Adverse Effect" finding.

As further consultation to resolve this disagreement with Idaho SHPO reached a stalemate, the FHWA Idaho Division Office requested the ACHP to review the finding and concur with the finding of No Adverse Effect to Historic Properties. We will discuss how we worked in coordination with FHWA, SHPO, our consultants, and the ACHP to attain a positive outcome.
WebEx meeting at 8:30 am.
Speakers: Matt Kriegl & Marc Münch, ITD
May 28, 2020
LHTAC presented on recent successes in partnering with the Forest Service to provide for FHWA-required mitigation
Play Meeting Recording (1 hr. & 26 min. - WebEx)
Problem: Needed to find faster and more cost effective mitigation for projects that are FHWA-only mitigation that did not leave our local sponsors with a long term burden.
Solution: Looked for regional partner with an already established environmental stewardship mission, that had a restoration project that created or restored wetlands that we could financially contribute to provide mitigation. Need willing and proactive partner, that owns the land or has a conservation easement on the land as well as a long term management plan.
WebEx only meeting
Speaker: Karissa Nelson (Hardy), LHTAC
March 26, 2020
Cancelled
January 23, 2020
ITD 654 Form and Instructions
Play Meeting Recording (1 hr. & 20 min. - WebEx)
8:30 AM
ITD HQ Auditorium
3311 W State St
Boise
Speaker: Aimee Hill, ITD

December 5, 2019
ESA Section 7 Consultation and Mitigation
Play Meeting Recording (1 hr - WebEx)
Presentation on consultation and compliance under the Endangered Species Act and Magnuson-Stevens Act. Focus was placed on projects that require working in and around rivers and other waterbodies, construction elements that have potential to affect listed species, and mitigation strategies. Also covered Worker Environmental Awareness Trainings (WEATs) in other states. WEATs help contractors minimize impacts to listed species, as well redd surveys, isolation of in-stream work areas, fish salvage and compliance monitoring.
8:30 AM
ITD HQ Auditorium
3311 W State St
Boise
Speaker: David Fornander, Jacobs

September 26, 2019
I-84 Noise Mitigation and Desirability
The Idaho Transportation Department is making plans to widen Interstate 84 from Nampa to Caldwell. The presentation focused on some interesting aspects of obtaining a result on desirability per the noise policy.
11:00-12:30* time change
ITD HQ Auditorium
3311 W State St
Boise
Speaker: Kurt Wald, Horrocks Engineers

July 25, 2019
CEQ NEPA Legislative Update
The National Association of Environmental Professionals (NAEP) hosted its annual NEPA Policy and Legislative Update. The July 25th webinar provided current information on developments regarding the National Environmental Policy Act (NEPA).
11:00-12:30* time change
ITD HQ Auditorium
3311 W State St
Boise
Speaker: Ted Boling, CEQ

May 23, 2019
Play Meeting Recording (1 hr - Web Ex)
Spanning Time: The History of the Broadway Bridge
Barbara Perry Bauer discussed the background and history of Boise River bridges, and the importance of the Broadway Bridge to Boise's development. The presentation was part of mitigation for the removal of an National Register of Historic Places eligible bridge constructed in 1956 and replaced with a new structure in 2017.
8:30 AM
ITD HQ Auditorium
3311 W State St
Boise
Speaker: Barbara Perry Bauer, TAG Historical Research & Consulting, Inc.

March 28, 2019
US Army Corps of Engineers, Walla Walla District
New Wetland Delineation Guidance
ITD HQ Auditorium
3311 W State St
Boise
Presenter: Shane Skaar
January 24, 2019
The Narrows | Presenter: Nathan Cleaver, Keller Associates
A presentation was given on the Environmental Assessment (EA) jointly prepared for two interrelated projects; Old Hwy 37 (The Narrows) and Rock Creek Restoration. Old Hwy 37 is a federal transportation project while Rock Creek Restoration is a US Forest Service project. The presentation discussed the evolution of the EA, differences between FHWA and USFS requirements, and issues and how they were overcome.
ITD HQ
3311 W State St
Boise
Nathan Cleaver – Keller Associates
October 25, 2018
Play Meeting Recording (Web Ex)
US Army Corps of Engineers introduced the new ITD liaison and
discussed how to handle state-funded and "non-reporting" nationwide permits.

ITD Office of Communications discussed the Public Outreach Planner (POP)
and how to apply this tool to projects.
ITD HQ
3311 W State St
Boise

Tracy Peak – US Army Corps of Engineers
and
Adam Rush – ITD Communications

August 23, 2018
Land Use Planning Compatibility – airports and transportation
Play Meeting Recording (1 hr - Web Ex) - Recording does not require a password
ITD HQ
3311 W State St
Boise

Presented by Joe Guenther, T-O Engineers
NEPA
To learn more about the Environmental Process or for specific questions, please go to the ITD Environmental Process Manual.
There are more than 40 federal and state environmental laws that affect transportation decisions. A unifying federal environmental law is the National Environmental Policy Act of 1969 (NEPA), which provides a framework for addressing the various environmental statutes, regulation and policies. NEPA is a procedural statute (40 CFR sec 1500) for decision-making during federal projects to assure analysis of social, economic and ecological impacts. ITD is required to provide a NEPA document for projects that are federally funded through the Federal Highway Administration (FHWA).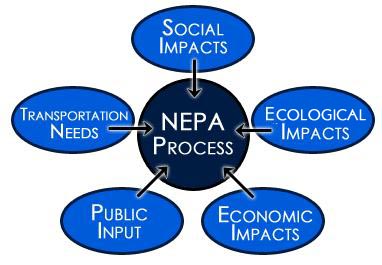 NEPA Requirements
Study a reasonable range of alternatives based on "Purpose and Need"
Use a systematic, interdisciplinary approach while evaluating environmental factors during the planning process
Widespread interagency coordination, review, and consultation
Documentation of the environmental analysis process in plain language
Provide the public opportunity to participate and comment throughout the process
Three Types of NEPA Documents
Environmental Evaluation (EE) | Categorical Exclusion (CE)
Environmental Assessment (EA)
Environmental Impact Statement (EIS)
Document approval in-house or by FHWA
Document approved by FHWA
Document approved by FHWA
Examination of project concept and location regarding potential
for socioeconomic or ecological impacts
Unsure if significant impacts
Significant impacts
Determination of impact significance
Evaluation of key resources
More detailed evaluation
Finding of No Significant Impact (FONSI)
Record of Decision (ROD)

Programmatic Agreement between ITD and FHWA Idaho Division Office
Approval of Actions Classified as Categorical Exclusions for Federal-Aid Projects
FHWA Links
ITD Environmental Links
Cultural Resources
Cultural resources are the physical evidence or place of past human activity. They can include everything from archaeological sites to buildings, bridges, and canals to landscapes and places of traditional religious and cultural importance. ITD seeks to avoid, minimize, or mitigate adverse impacts to historically significant cultural resources. The ITD Cultural Resources Program ensures all ITD projects are in compliance with state and federal cultural resource protection laws.
Human & Physical Environment
Natural Environment
Wetlands – Section 404 of the Clean Water Act
Wetlands generally include swamps, marshes, bogs, and similar areas that are saturated by surface or groundwater and supports vegetation adapted for life in saturated conditions. They provide important functions including groundwater recharge, erosion control, shoreline stabilization, and fish and wildlife food and habitat.
Two Categories of Wetlands:
ITD's policy is to avoid any activities that adversely affect wetlands during the design, construction, and maintenance of transportation projects. Appropriate action is taken to minimize and mitigate impacts that cannot be avoided.
Section 404 Permit – Required for discharging, dredging, or placing fill material within "Waters of the US" including wetlands to prevent quality degradation and overall loss of wetlands. Administered by the US Army Corps of Engineers (USACE).
Link to Regulations

Clean Water Act, Section 404

Links to Guidance:
Links to US Army Corp of Engineers (USACE) / Walla Walla District Information:
Link to FHWA Site:
Sole Source Aquifer
| | | | |
| --- | --- | --- | --- |
| | | | |
| Yellow Billed Cuckoo | Steelhead Trout | MacFarlane's four-o'clock | Canada Lynx |
The program examines highway impacts on species listed under the federal Endangered Species Act (ESA) and works with the Idaho Fish and Game, Fish and Wildlife Service (USFWS), Forest Service, Bureau of Land Management, and others for the purpose of preserving, protecting, and enhancing the state's natural resources while operating, maintaining, and improving the state's transportation system.
Wildlife, fish, and sensitive plants require consideration during project planning and development. Areas of concern include:
Interference to wildlife functions such as wintering, foraging, migration, breeding and/or rearing
Effects related to collisions between vehicles and animals
Loss of animal or plant populations
Noise disturbance or loss of habitat
Guidance
See also the ITD Environmental Process Manual, Section 1000
The Cooperative Agreement with ITD, FHWA and USFWS for Biological Evaluations/Assessments is found in the ITD Environmental Process Manual. Go to the end of the Table of Contents links for Section 300 and find Exhibit 300-6, Programmatic Agreement.
Wildlife Crossing Database is an innovative tool that identifies the proximity of wildlife safety hazards. This tool was honored as the 2009 recipient of the Exemplary Ecosystem and Exemplary Human Environment Initiatives presented by the Federal Highway Administration.

For more road ecology information, please see the FHWA Wildlife Crossing Guide. This document prepared by the Western Transportation Institute is a handbook for design and evaluation of wildlife crossing systems in North America.
Archived Information
Gray Wolf – FHWA Programmatic Determination
Stormwater
Stormwater means stormwater runoff, snow melt runoff, surface runoff and drainage. Stormwater runoff may pick up and transport sediment, oil, and other pollutants. If not managed properly these pollutants can affect the quality of surface waters making them unsafe for drinking, fishing, swimming, or other activities.
Manuals
Public Involvement
Public Outreach Planner (POP)

To effectively manage public outreach plans and activities, ITD staff need information, resources and recommended tools to implement and conduct an effective public outreach effort. The Public Outreach Planner (POP) is a tool for analyzing, quantifying and tracking public outreach needs, which will ultimately lead to appropriate and efficient project management.
Training
Contacts
The District staff has knowledge in a broad range of areas including environmental analysis, threatened and endangered species, traffic noise, air quality, stormwater, wetlands mitigation, and permitting. They work directly with local, state, and federal agencies, along with the public in avoiding or minimizing project impacts. The planners prepare and coordinate environmental documents in compliance with NEPA. Below are the Environmental specialists located at the six districts of the Idaho Transportation Department (ITD).
District 1 – Coeur d'Alene Office
Mike Hartz
Sr. Environmental Planner
(208) 772-8018
District 2 – Lewiston Office
Shawn Smith
Sr. Environmental Planner
(208) 799-4268
Neal Scott
Environmental Planner
(208) 799-4250
District 3 – Boise Office on Chinden Blvd.
Greg Vitley
Sr. Environmental Planner
(208) 334-8952
Chris Branstetter
Environmental Planner
(208) 334-7192
Scott Rudel
Environmental Planner
(208) 334-8329
District 4 – Shoshone Office
Connie Jones
Sr. Environmental Planner
(208) 886-7824
Dan Armstrong
Environmental Planner
(208) 886-7832
District 5 – Pocatello Office
Alissa Salmore
Sr. Environmental Planner
(208) 239-3312
Chuck Heisler
Environmental Planner
(208) 239-3355
District 6 – Rigby Office
Tim Cramer
Sr. Environmental Planner
(208) 745-5602