BOISE – ITD's Geographic Information Systems (GIS) group recently earned the Special Achievement in GIS, or SAG Award, on July 11 at the annual Esri User Conference in San Diego. Esri is the global market leader in GIS software, and selected ITD from more than 300,000 eligible organizations worldwide to receive the award for innovative application of mapping, data analytics, and thought leadership in the field of transportation.
This work benefits the department, but also is a step toward greater access to road data for the public.
This roadway location intelligence will be available to local government entities and highway districts to provide accurate disbursement of federal highway dollars," ITD Senior Service Delivery Manager Jeff Carpenter explained. "This data will be available to the public for use in urban planning, environmental impact analysis, disaster management, natural resource management and health-care planning. GIS location intelligence can help in many aspects of community development and planning."
And here is the interesting part about this award:
ITD did not apply for it. The agency was selected, unsolicited.
Esri looked at the work ITD is doing, then sent it to a group of peers for review, and they nominated the department for the award. Linear Referencing expert Amit Hazra said that ITD has the best road-network data that he has worked with in doing roads and highways implementation projects.
The award selection was cemented by the high quality of ITD's road network, specifically the road data for each ITD district.
ITD's system provides quicker access to data, which can then be used to make data-driven decisions about planning, project funding, or asset management.
There were 134 countries represented in San Diego, and 21,000 people on hand.
"There was a single example of excellence used in the transportation category, and it was Idaho," Carpenter said.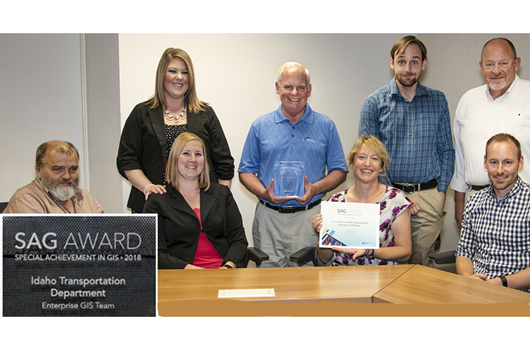 Back Row: Sydney Lewis, Brian Ness, Will Thoman, Jeff Carpenter
Front Row: David Fulton, Nicole Hanson, Wendy Bates, Tyler Jackson
Not Pictured: Michael Miller, Brian Smith