The Idaho Transportation Department will host a community open house to discuss the construction plans for the I-84 Business Loop in downtown Nampa on Thursday, May 31.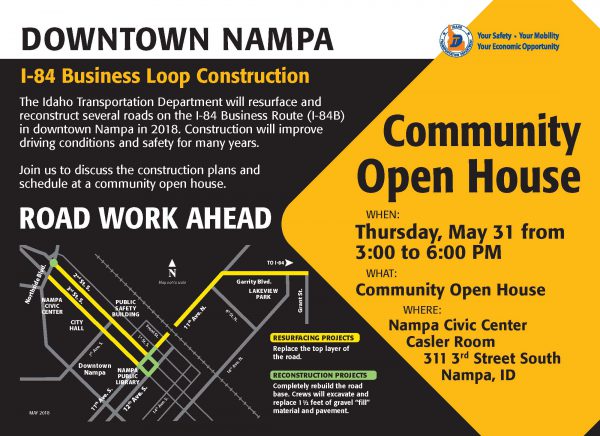 The open house will run from 3 p.m. to 6 p.m. at the Nampa Civic Center, Casler Room, 311 3rd Street South in Nampa. Community members are invited to stop by any time to learn more about the construction plans and discuss the project. Construction work will include the following streets:
• Garrity Boulevard (11th Avenue North to Grant Street)
• 11th Avenue (3rd Street South to Garrity Boulevard)
• 3rd Street South (Northside Boulevard to 11th Avenue)
• 2nd Street South (Northside Boulevard to 11th Avenue)
• Library Square
• Northside/2nd Street intersection
Download the project fact sheet for more information.
Construction is anticipated to begin in June and be completed in late summer 2018. The project will resurface and reconstruct several roads in downtown Nampa to improve driving conditions and safety.
Business access will remain open at all times during the day. A majority of the work will occur at night between 8 p.m. and 6 a.m. with some lane restrictions and detours necessary. Lane restrictions may also be necessary for curb and gutter work during the day.
Pedestrian ramps are also being replaced throughout the project area to meet the requirements of the Americans with Disabilities Act (ADA). Pedestrian ramp work will occur during the day Monday through Friday and may require brief sidewalk closures.
To receive email updates about this project, text "NAMPA" to 22828 or email Jennifer.Gonzalez@itd.idaho.gov. Construction details also will be posted to itd.idaho.gov/d3.