The Idaho Transportation Department's Office of Highway Safety (OHS) is joining other state highway safety offices and law enforcement agencies across the country to keep our communities safe with engaged driving. This is part of a nationwide effort called Connect to Disconnect.
Thursday, April 8 officers across the country will commit a four-hour shift to targeting distracted driving. In addition, April 19 – 30, more than 60 law enforcement agencies throughout Idaho will work with OHS to dedicate patrols to enforcing Idaho's new hands-free law.
"April is Distracted Driving Awareness Month and we urge Idahoans to join us by agreeing to disconnect from your phone, put it away while you are behind the wheel, and drive engaged," said OHS Manager John Tomlinson.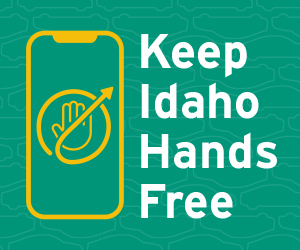 According to OHS data, between 2015 and 2019 there were more than 25,000 distracted driving crashes in Idaho killing 237 people. Nationally, distracted driving was a factor in nine percent of all traffic fatalities in 2019 – in Idaho, it was 16 percent.
To help improve safety on our roads, the Idaho legislature passed the hands-free law last year, banning the use of handheld electronic devices while driving – even while temporarily stopped at a red light or stop sign. Officers spent the second half of 2020 educating drivers about the new law and in January they began issuing citations.
"Inattentive driving is illegal and dangerous," Tomlinson said. "If you need to use your phone's GPS, enter the address in before you start driving. Check out Bluetooth options for your car so you can talk hands-free, and if you have to read or send a text, pull over and park the car. Choose to leave the distractions behind, stay focused on the road, and drive engaged so you can help save lives."
For more information visit shift-idaho.org.