Following the completion of the median lanes for Interstate 84 in Nampa, crews will finish the removal the old Northside Boulevard Interchange structure this weekend.
The interchange is being upgraded to a Single Point Urban Interchange (SPUI). This design is safer and more efficient than the traditional diamond interchange design and has been successful across the Treasure Valley at Ten Mile Rd., Meridian Rd., and Vista Ave. A notable difference with the Northside SPUI is that the on and off ramps will meet beneath the Interstate instead of above them.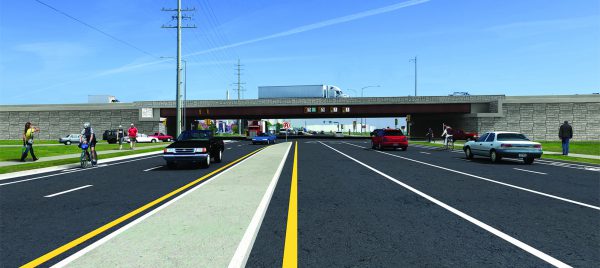 This work will require several impacts in the short-term.
Overnight Friday, June 19 and Saturday, June 20, Northside Blvd. will be closed between the Interstate ramps while crews demolish the remainder of the old bridge structure. I-84 will be reduced to one lane of travel in each direction. Those impacts will be in place from 9 p.m. to 7 a.m. each day. Northside traffic will use a marked detour route (click for a detour map).
Beginning next week, crews will excavate the embankments of the old bridge to create additional room to shift Northside traffic. In July, Northside traffic will shift to temporary pavement on the west, allowing construction of the new features to the east. This is expected to take several months to complete.
When improvements are complete on the east side, traffic will be shifted to the new travel lanes and crews will begin constructing the new features on the west side of the interchange.
Throughout the reconstruction, two lanes in each direction will be maintained on Northside during the day. ITD anticipates nightly closures of a lane in each direction on Northside between Shannon Drive and Karcher Road.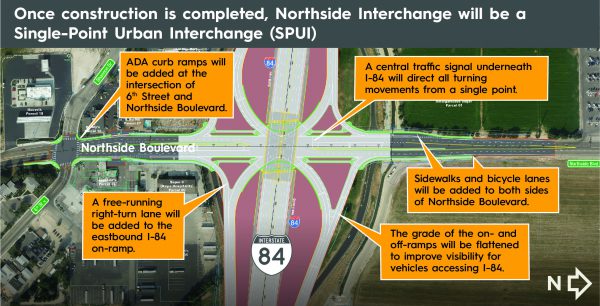 The upgraded SPUI will feature additional safety and capacity for vehicles. It will include new bicycle lanes and sidewalks on Northside. The eastbound on-ramp and westbound off-ramp will be a gentler grade, allowing vehicles to more-easily get up to highway speed when entering or slow down when exiting.
For more information about I-84 improvements in Canyon County, visit ITDprojects.org/84corridor.