*Updated March 3 to show that the start date is dependent on weather. Less precipitation and warmer temperatures will be needed to begin work, and based on the current forecast, the start date will likely shift to March 14. Check 511 as we get closer to construction to confirm. 
The Idaho Transportation Department will begin replacement of the Interstate 90 overpasses at Division Street and Elizabeth Park Road next week to improve safety.
Construction is anticipated to start Monday, March 7, with traffic on I-90 restricted to one lane in each direction at all times. Work is expected to take two seasons, with each season starting in March and lasting through October. All lanes will be open during the winter between construction seasons.
The project also includes widening the eastbound on-ramp at Division Street and repaving both streets under the overpasses.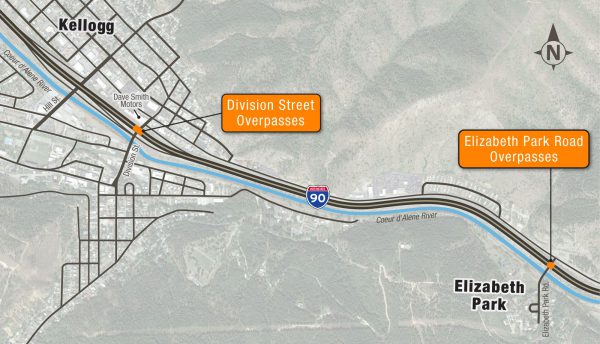 Motorists should plan for the following impacts:
Division Street:
Both lanes will be open under the I-90 overpass with minimal closures as needed.
On-street parking under the overpass will not be allowed.
Sidewalks will be closed under I-90 with a signed pedestrian detour.
Ramp work will take place in the shoulders with minimal impacts to drivers.
Elizabeth Park Road:
Drivers can expect one-way alternating traffic controlled by temporary traffic signals on Elizabeth Park Road under I-90.
Elizabeth Park Road will be closed for several nights each construction season as crews demolish each structure before building a new one. Digital message boards will provide warnings at least one week in advance of any road closures as a detour is not available and will not be posted.
The bridges date back to the 1960s. For up-to-date information on this project, please visit itdprojects.org/i90divisionelizabeth.
Drivers will also encounter several other work zones on I-90 later this summer.
Four miles east of the bottom of Fourth of July Pass will be repaved, and barrier will be installed to prevent head-on crashes on the freeway. A contractor is not on board yet, but work is expected to take place between June and October with one lane in each direction closed.
One westbound lane will be closed at the Golconda interchange starting in April or May as the bridge is repaired. Repairs would take through September to complete.
Repairs to concrete barrier between Mullan and Montana are expected to start in April or May and require single-lane closures in one direction at a time.
The worst ramps in Shoshone County will be repaved this summer, with work starting as early as May. As ramps are resurfaced, they will be closed for about a day each. All work is scheduled to take about six weeks.
Paving between Wallace and Mullan is scheduled to begin in June and take until September, with traffic reduced to one lane in each direction.
Travelers should check 511.idaho.gov to learn about traffic impacts before driving.