This National Work Zone Awareness Week, ITD would like to remind drivers how to be safe in work zones.
Work zones aren't just limited to the primary construction season – they can pop up at moment's notice and times you wouldn't expect to see them.
That was the case on January 15 when D1 operator Jed Henderson was dispatched to I-90 near Kellogg to fill in potholes.
"It was early evening and in the winter, so it was still dark out. The potholes were about 8 inches deep, and we needed to fix them," Henderson said.
They were so deep that Henderson brought the mix to the site in the bucket of the loader so he could shovel it into the holes.
Ten minutes later and Henderson was cleaning up material on the shoulder when a driver blew past other equipment and ran into one of the tires on the loader.
The car then went sideways and was impacted by another car.
"We were lucky no one was hurt," Henderson said. "Just minutes before we had been standing in that spot."
Strapped in the seat of a 55,000-pound loader, Henderson said he barely felt the collision – but it has changed how he approaches the job.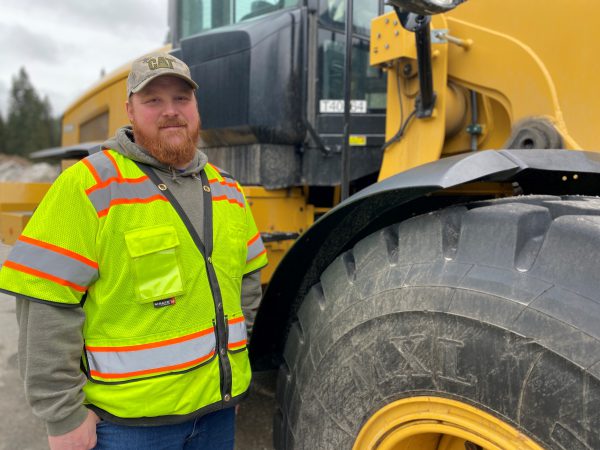 "You spend every week working next to 70 mph traffic and you almost get used to it," Henderson said. "You think it won't happen to you and then it does."
Idaho State Police investigated the incident and cited the driver for driving under the influence, which as a first-time offense is a misdemeanor with a penalty of a $1,000 fine and a one-year license suspension.