Idaho's Historical Highway Markers are a unique feature of the Gem State and are a fascinating resource for those traveling on the state highway system. The program was spearheaded by legendary Idaho historian Merle Wells beginning in 1956. Today, more than 270 signs dot the highways, providing a peek into Idaho's rich history for travelers across the state.
More recently, MacArthur "Mac" Eld, a concerned citizen, realized the need for the signs to be revitalized.  Mac spent eight years visiting every single one of the historical markers, traveling Idaho on his three-wheeled motorcycle. This started as a project to create Christmas calendars featuring the signs, but soon became a quest to document and catalog each sign's condition.
Responding to Mac's efforts, in 2019, the Idaho Transportation Department and the State Historic Preservation Office (SHPO) started an effort to update the markers, considering physical condition, text with more accurate and inclusive history, and additional visual details.
"Mac's presentations to the Idaho Transportation Board really put these signs in the forefront," said Matt Kriegl of ITD Cultural Resources, who serves as program coordinator.  "Previously, they were often neglected as the department focused on other priorities over the decades."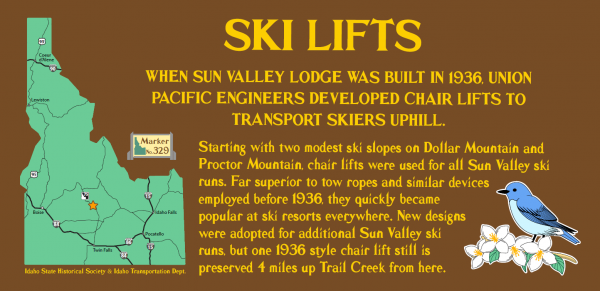 Most of Idaho's signs were installed in the '50s and '60s, with additional signs added in the decade leading up to the Idaho Centennial in 1990. Although many have been repaired and replaced over time, there has never been a comprehensive program, so many have not been touched since their initial installation.
All information on Idaho's Highway Historical Markers is approved by the Idaho State Historical Society (ISHS) and the signs are installed in coordination with ITD.  Once updated language is received from ISHS, ITD will replace each of the signs. The first sign slated to be replaced is the Ski Lift Marker near Ketchum in Blaine County (pictured above, right).
An online Highway Historical Markers guide, showcasing the signs, their condition, and the administrative processes surrounding them is available for both ITD staff and the general public alike at: https://idaho-highway-historical-markers-iplan.hub.arcgis.com/