"You should change the speed limit signs when it's snowing so we know what's safe."
That's what one driver told an officer after she was pulled over on a winter night for going 70 mph on the freeway in black ice conditions.
If you're not used to driving in the winter, this might seem like a good idea. But in truth, safety is the responsibility of every driver, regardless of the weather. And being prepared for winter driving requires a combination of experience and education.
In Coeur d'Alene, the police department remembers that night as one spent driving from crash scene to crash scene, checking for injuries without even the time to prepare crash reports.
"It seemed like every 100 yards there would be another crash," said Nick Knoll, an officer on the traffic team at CDA PD.
Since experience only comes with time, many local police departments focus on educational programs to help new winter drivers. Knoll has been with the department since 2002, and since 2016, he has taught winter driving classes for those either looking for a refresher course or an introduction into North Idaho winters.
His class can be summarized in four main points, all of which provide great advice for new winter drivers:
Don't drive during storms if you don't have to – ask yourself if that trip to the store can wait.
Pay attention – winter driving conditions can be unforgiving of even the smallest mistakes.
Practice – just like you did in high school, find an empty parking lot and practice.
Prepare your vehicle – snow tires are strongly recommended.
"We teach drivers to drive what is safe for their abilities and their vehicles," Knoll said.
More than 2,000 drivers have taken the course, a two-hour event offered October through November.
"We get about 65 drivers each class," Knoll said. "Our audience varies in terms of age and gender, but each time roughly 90 percent of the class is about to experience winter driving for the first time."
According to Knoll, people who take the class are most surprised by the difference snow tires can make. Officers play this video to show the difference, and this year Les Schwab donated ice scrapers to all participants, raffled off two emergency car kits and offered a 10 percent discount on snow tires.
"We get a lot of engagement after class, and drivers tell us we make winter seem less daunting," Knoll said.
The classes in Coeur d'Alene are free, with multiple sessions held each fall in the evenings and on weekends. Next year call the Coeur d'Alene Police Department at (208) 769-2320 to sign up, or if you would like to teach a similar course, contact Knoll for more information.
Until then, drive for conditions, stay engaged and check the newly improved 511.idaho.gov so you know before you go.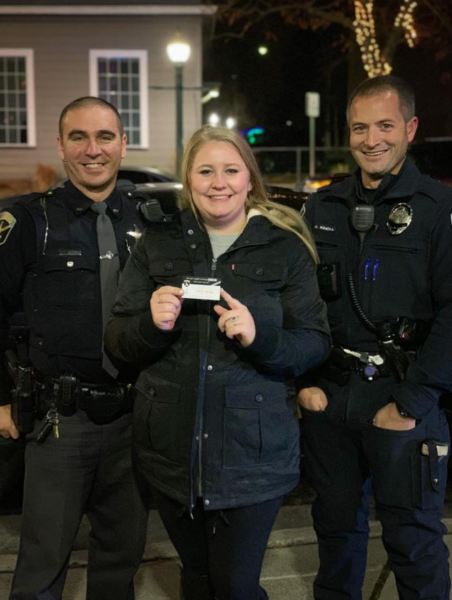 Knoll (far right) with fellow officer recognizing a sober driver.