Idaho Transportation Department crews are completing emergency repairs to a section of Idaho Highway 45 after numerous potholes formed on the roadway.
Potholes continue to form between Deer Flat Road and Melba Road, an eight-mile stretch of ID-45. The damage is caused by water seeping under the surface, freezing – which pushes the pavement up – and thawing, leaving a void.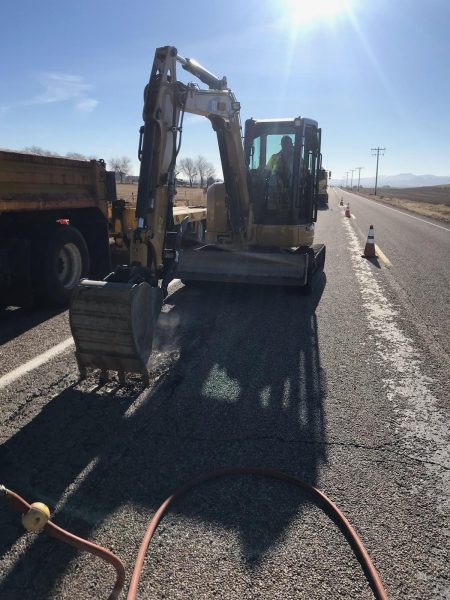 The voided pavement then collapses under the weight of traffic.
The emergency repairs involve removing asphalt and debris from the hole, cutting out the damaged pavement, and filling the hole with an asphalt material designed for use during cold temperatures. Crews will close one lane of ID-45, controlling traffic with flaggers. Motorists should drive engaged and anticipate delays of no more than 15 minutes. Repair work is expected to take up to two or three days.
"We've been patching this section of highway to keep it together," said Camilo Serrano, the ITD Maintenance Foreman for the area. "With the rain and snow we got, and temperatures dropping then warming up again, we're seeing a lot of potholes forming. I'm hoping these patches will stick through the winter until we can come back in the spring with better repairs."
This cold patch material is not as strong as typical asphalt and will only work for a short time. Normal asphalt is unavailable currently as no nearby asphalt mixing plant is operational this time of year due to seasonal conditions. ITD is developing a plan to complete longer-lasting repairs in the spring. The fix will be similar to the operation in 2017 to repair I-84 after many potholes formed during that year's severe winter.
The Department has previously budgeted for major rehabilitation of the pavement from the Junction of ID-78 to Deer Flat Road, scheduled for 2025. The springtime repairs will be designed with the intent to keep the roadway in an acceptable condition until that time.