The Idaho Transportation Department (ITD) again set the standard for state agencies with a second appearance Oct. 23 in the Idaho Technology Council Innovative Company of the Year awards. ITD remains the only public-service state agency to make the final grouping. Not just once, but twice — 2016 and 2019.
The Power of Ideas celebration honored some of Idaho's most innovative people and private technology companies.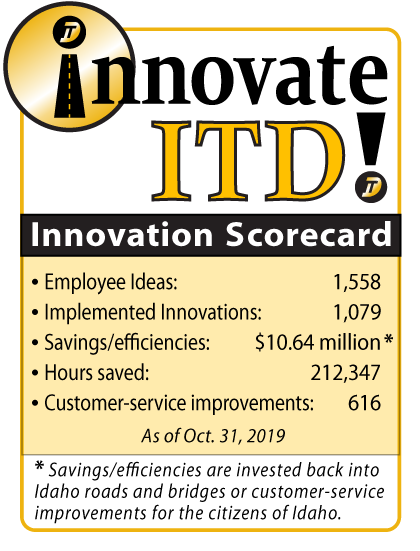 "The innovative Company of the Year recognition only validates what I discovered my first year working at ITD — that our employees are dedicated to the ITD mission and resourceful and responsible in their use of resources," said Chief Administrative Officer and ITD Innovation Champion Charlene McArthur. "All we needed was a common language and process to showcase our efforts. That became our innovative effort, Innovate ITD!"
The ITD nomination highlighted some big accomplishments. Since the department launched Innovate ITD five years ago, ITD employees have submitted more than 1,500 ideas and implemented 1,000. Because of those implemented ideas, ITD has saved more than 200,000 hours, found more than 600 improvements for our customers, and re-directed more than $10 million in savings and efficiencies back to critical repairs of the state's roads and bridges.That main difference between ITD and the private sector really seemed to resonate with the judges and attendees – that the agency's innovations benefit everyone in the state, not just those who purchase a product.
"This is an employee-driven effort," said McArthur. "ITD's innovations are created by our employees, and most of them are created by teams that include front-line employees."
Idaho's state transportation system connects people to jobs, education, healthcare, places of worship, cultural and sporting events, recreational opportunities, and family members. It helps ensure security at home and abroad. A strong transportation system is critical to the nation's and Idaho's economy. A robust, growing economy requires a strong transportation system.
"Continuous improvement is one of the department's key strategies to deliver value to the taxpayers," McArthur explained. "ITD innovation also serves as a performance benchmark for other state agencies in Idaho and Departments of Transportation across the country."