This is a pivotal and challenging time in the world of public transportation in Idaho. Citizens have the opportunity to help shape what Idaho's transit future will look like!
The Idaho Transportation Department (ITD) is seeking representatives for District 1 and District 4 to serve on the Public Transportation Advisory Council (PTAC).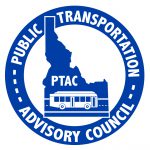 The individual selected for District 1 will represent Bonner, Boundary, Shoshone, Kootenai, and Benewah counties. The individual selected for District 4 will represent Blaine, Camas, Lincoln, Twin Falls, Jerome, Gooding, Cassia, and Minidoka counties.
The PTAC was created to advise the ITD Board on issues related to public transportation in Idaho. It is composed of six members, one representing each of ITD's administrative districts.
Those interested in applying can find the application form at itd.idaho.gov/pt under the "Advisory" tab. Then, click on either the "District 1 PTAC Application" or the "District 4 PTAC Application" link. Applications will be accepted through April 4. A 30-day public comment period on the candidates will occur starting shortly thereafter.
For more information about PTAC or the application, contact the ITD Public Transportation Office at (208) 334-8533, or email Shauna.Miller@itd.idaho.gov