Ahead of constructing additional lanes on Interstate 84 in Canyon County, the Idaho Transportation Department is reconfiguring westbound lanes of the Interstate near the Franklin Blvd. interchange.
Currently, three westbound lanes are reduced to two lanes with the far left lane merging into the center lane. In the new configuration, the left lane will no longer merge, remaining a travel lane. The far right lane will end, used as the off-ramp to Franklin Blvd. A similar configuration is on westbound I-84 at the Garrity Blvd. interchange, where the Interstate is reduced from four to three lanes.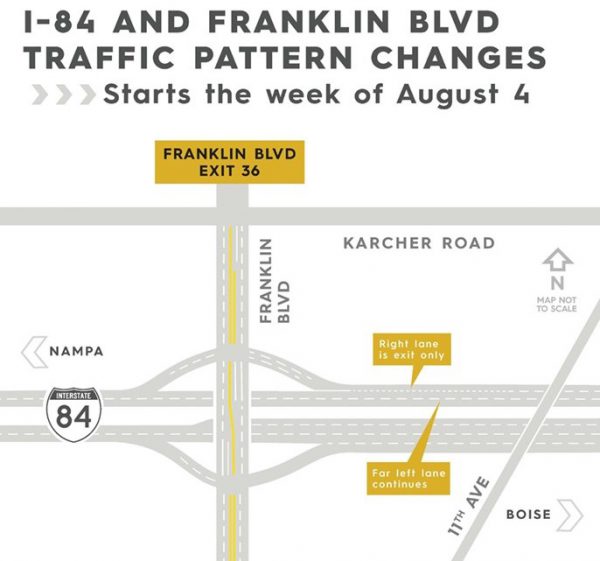 "This reconfiguration maintains the existing capacity of I-84 during construction," said ITD Project Manager Styles Salek. "With this change, we remind motorists to slow down, plan ahead and pay attention in construction zones."
In order to promote the safety of motorists and construction crews, ITD has partnered with the Idaho State Police to provide enhanced patrols throughout the duration of the project.
This change will allow crews to begin adding lanes in the I-84 median between Karcher/Midland and Franklin Boulevard. The addition of lanes is part of the ongoing I-84 corridor project from Nampa to Caldwell. Improvements are expected to improve safety, address congestion and benefit the regional economy for many years.
For more information about the I-84, Karcher to Franklin project, listen to the Drive Idaho podcast, visit itdprojects.org/84corridor or text 555888 to request construction updates. You can also contact ITD at 84corridor@itd.idaho.gov and (208) 334-8002.