Please plan ahead for Interstate 84 ramp closures and delays over the weekend of April 22-25 between Caldwell and Nampa. As work continues to widen I-84 through Canyon County, beginning Friday, April 22, I-84 traffic will shift from the outside lanes to the new median lanes between Ustick Road and Karcher Road. Please drive carefully and watch for signs.
Speed will be reduced to 45 mph overnight with one lane open in each direction. Both lanes will be open during the day. Additional impacts include the following:
The westbound on-ramp at Karcher will be closed all weekend, from Friday, April 22 at 10 p.m. to Monday, April 25 at 6 a.m. Traffic will be detoured down eastbound I-84 to Northside Boulevard. Motorists can then enter westbound I-84 at the Northside on-ramp.
The eastbound off-ramp at Karcher will close at 10 p.m. on Saturday, April 23 and will re-open at 7 a.m. on Sunday, April 24. Traffic will be detoured to the Northside Boulevard eastbound off-ramp.
See detour maps and video below. This work is weather dependent and will be rescheduled if necessary.
This weekend is the first of three shifts that will take place to move traffic into the new median lanes on I-84 between Franklin Road and Karcher Road. Additional shifts will occur later this spring and summer. Once traffic is shifted, crews will start working on improvements to the outside lanes.
Construction is expected to be complete in summer 2023.
For more information about the I-84 widening project, visit itdprojects.org/84corridor or text 84CORRIDOR to 1-866-483-8422 to request construction updates. You can also contact ITD at 84corridor@itd.idaho.gov and (208) 334-8002.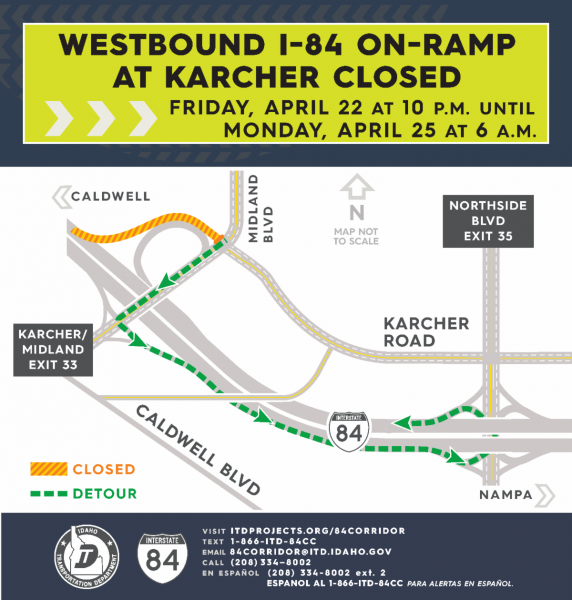 ---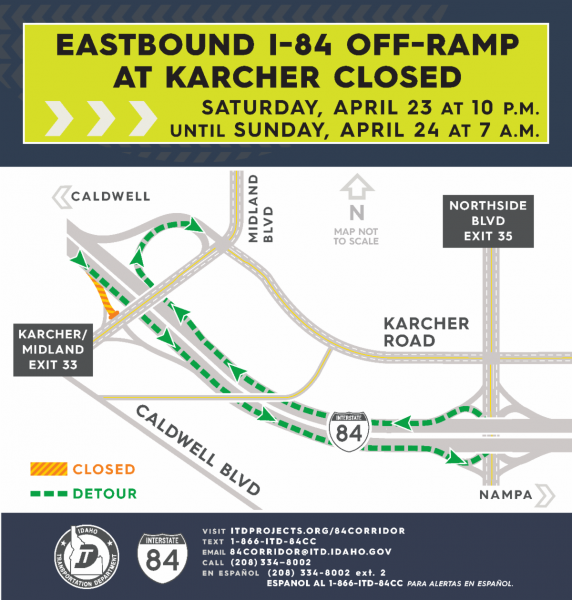 ---