Preliminary work to expand U.S. Highway 95 on a new alignment from Thorn Creek Road to Moscow began last week, with crews mobilizing into the middle segment and beginning survey.
The project will transform 6.5 miles of US-95, shifting it less than a mile to the east and expanding it from two to four lanes, enhancing safety for all users. Work this year will include earthwork and two new bridges over Eid Road.
Only some of the construction will be visible from the highway. Drivers should expect contractors' vehicles and equipment near Zeitler Road throughout the next several months.
"This is the last two-lane section between Moscow and Lewiston," ITD Project Manager Howard Cooley said. "The new route will tie in at Reisenauer Hill and be safer by featuring flatter grades, fewer approaches and less severe curves."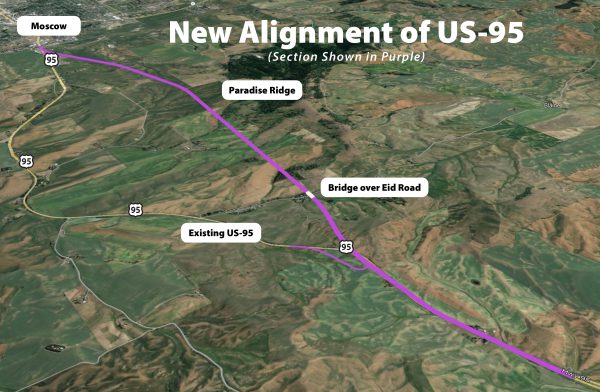 US-95 is Idaho's only north-south continuous highway, connecting travelers and commerce across the state.
Sign up for email updates at itdprojects.org/us95thorncreektomoscow.