The replacement of the US-20 culvert at Rock Creek with a bridge and the resulting environmental and economic improvements recently won second place in the Engineering Excellence awards in the American Civil Engineers Council (ACEC) of Idaho annual awards, Water Resources Category in partnership with design firm Jacobs Engineering.
The project finished in December 2020. ITD was notified of the award on Jan. 14, 2021.
The bridge was recently constructed on US-20 in south-central Idaho where only a culvert previously existed. The multi-plate culvert at Rock Creek had reached the end of its useful life and was showing signs of compromise in the flowline. The decision to construct a new bridge to replace the culvert over Rock Creek also addressed other needs. First and foremost, the new bridge remedied the failing multi-plate culverts. The bridge also aided in safety by removing the steep roadway slope section, which had created erosion and maintenance challenge.
ITD was able to restore the streams to a more natural condition, which in turn should have a positive effect on the surrounding ecosystem. Building the bridge had less of an impact on the environment than replacing the existing multi-plate culvert. In addition, the new bridge will aid in restoring the habitat to allow unrestricted migration of wildlife and flow of the waterways. Establishing the stream channel under the new bridge helped restore the stream for habitat and encourage safe fish passage under the highway.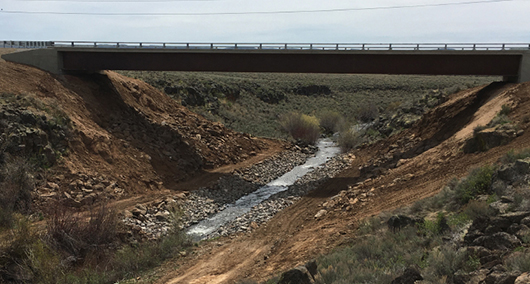 Allowing wildlife to pass under the highway also reduces the risk of possible accidents involving wildlife and motorists on the roadway. This section of US-20 has seen 64 vehicle-wildlife collisions over the last five years, which has a societal cost of approximately $2 million when you consider vehicle repair or replacement, medical bills, and raised insurance rates.
This was one of ITD's first projects incorporating Fabric Encapsulated Soil Lifts (FESL) into a design, an innovative way to efficiently ensure streambank stability during multiple water levels. The FESL allowed ITD to create a stable bank while still promoting vegetative growth.
The project has already improved the environment while enhancing the safety and the natural beauty of the project area. Just a few months after construction, fish were seen swimming upstream to spawn, while several deer (and a moose) were seen traveling ong the channels under the bridges.
The economic impact of the work is also significant, as US-20 is one of the longest routes connecting east and west Idaho in support of oversized commercial traffic