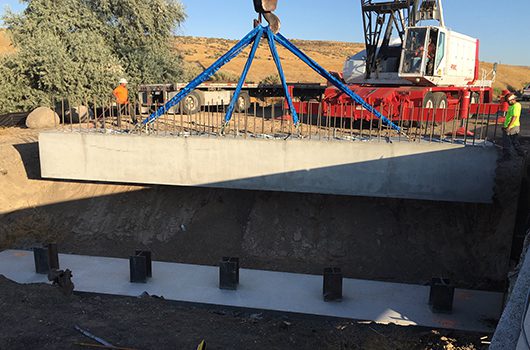 Next Wednesday and Thursday (Oct. 30 & 31) the Idaho Transportation Department is planning to place a bridge deck on the newly constructed Salmon Falls Creek Bridge near Banbury Hot Springs in Twin Falls County.
"While the deck is being placed, motorists will encounter longer than normal delays," says ITD Project Manager Kenny Lively. "Although most construction delays have been minimal, this upcoming work could result in wait times upwards of 30-40 minutes. As such, we are recommending motorists utilize an alternate route during these days."
Weather permitting, placement of the deck is expected to take place between 10 a.m. and 3 p.m. each day. In the mornings and evenings, when work is not underway, the area will be open to single lane traffic with a temporary traffic signal in place.
This is part of a larger bridge replacement project that has been underway since June of this year. When completed, the new structure will be both wider and longer – accommodating two 12-foot lanes in each direction, and incorporating a new left-turn lane as well.
Construction on the project is expected to be complete by early summer of next year.
The general contractor is RSCI from Boise.