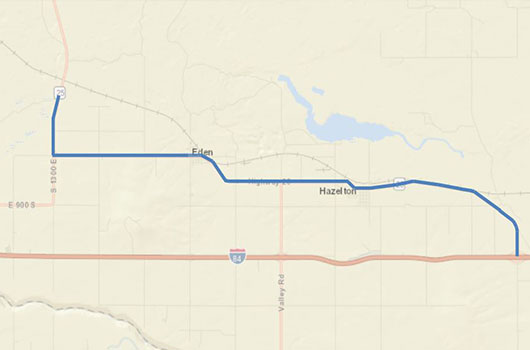 Construction is expected to begin Tuesday (June 1) on Idaho Highway 25 in Jerome County. This work will rehabilitate the roadway from milepost 18, approximately four miles west of Eden, to Interstate 84.
"This project will encompass approximately 13 miles of ID-25," ITD Resident Engineer John Baxter stated. "Although our work zone will be near Eden and Hazelton, construction operations will not occur within the communities."
Construction will involve pulverizing the surface of the roadway, adding cement and then compacting materials before placing a new surface on the highway. This will reinforce the existing base and extend the life of the roadway.
While work is underway, the highway will be reduced to a single lane. Motorists are advised to watch for flaggers and pilot cars that will be present to direct traffic through the work zone.
This $3.9 million project is expected to be complete late summer. The primary contractor is Western Construction, Inc.