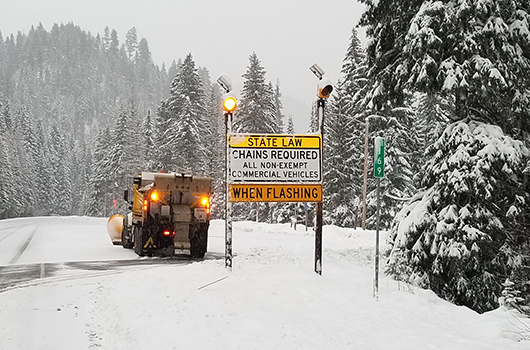 In extreme winter weather, chains can be a helpful tool to keep you safe while driving on slushy or snow covered roads. But are they required in Idaho?
Idaho's chain up law does not apply to most drivers on the road, or even most places you drive.
The law only applies to commercial vehicles over 26,000 pounds on mountain passes, most notably on I-90 east of Coeur d'Alene and on US-12 at the Montana border.
This can be confusing, as chain laws vary by state. Neighboring states, like Washington, may require passenger vehicles without AWD or four-wheel drive use chains during the harshest of conditions.
In Idaho, chains are only required when conditions will prevent large vehicles from traversing grades without them, and the requirement is lifted as soon as possible to limit damage to the road. Operators with the Idaho Transportation Department activate special roadside signs alerting truck drivers to chain up as needed during the winter.
Some commercial vehicles, like logging trucks, tow trucks, and school buses are exempt from the law.
If the chain up law is in effect, then all drivers should be prepared for snowy conditions. Stay on top of road conditions or closures by visiting 511.idaho.gov or downloading the Idaho 511 app.