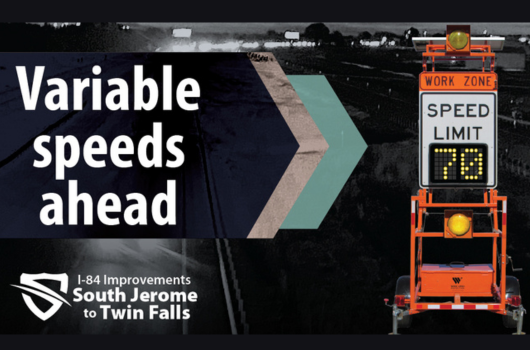 JEROME – The Idaho Transportation Department (ITD) has installed variable speed limit signs to improve safety as crews widen I-84 between the South Jerome and Twin Falls Interchanges. The new signs are controlled remotely, allowing ITD to lower speeds when crews are working near traffic.
The current posted speed limit in the work zone is 70 mph. When crews are working near traffic, ITD will lower the speed limit, and a flashing beacon will notify drivers that speed limits have been lowered. When crews are not as close to traffic, ITD will raise the speed limits to 70 mph.
Variable speeds have been successfully implemented in other work zones, including the one on I-84 between Caldwell and Nampa. Research shows that variable speed limits reduce crashes, reduce travel times, and improve safety.
The signs will be removed when construction is complete in late fall of 2025.
Details about the I-84 South Jerome to Twin Falls project are available at ITDProjects.org/84jerometotwin or by texting 84JTF to 1-866-483-8422.